10 Ft. Commercial Outdoor Umbrellas
When deciding on the right 10 ft. commercial outdoor umbrellas for your restaurant, hotel, country club, resort, or theme park, ask the experts at American Holtzkraft.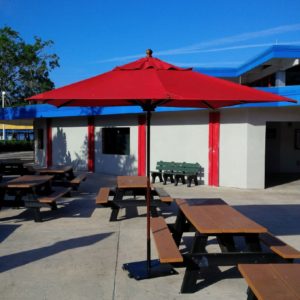 For more than 30 years, we have designed, engineered, and manufactured high-quality, durable and stylish umbrellas, canopies, and bases, refining our manufacturing process and incorporating a variety of materials to give customers a wide array of choices. We offer traditional wood umbrellas, as well as synthetic and aluminum umbrellas. Our fabric choices are vast, and our bases allow you to find the best fit for your needs.
Although we believe our umbrellas are the finest in the world, we also want to maintain and keep them looking their best. Our skilled service center staff can refinish and refurbish almost any type of wood or metal outdoor furnishings.
Umbrella Sizes
The size of your outdoor umbrella will be determined by its width, not by its height. All American Holtzkraft umbrellas are measured from tip to tip on the ribs.
A good guideline for determining the canopy diameter is to measure the area, tables, or seating groups you want to shade, adding a 2-feet shade buffer around the table for optimal comfort. The extra shade will give your guests a fuller glare-free experience depending on where the sun is in the sky.
Our 10-foot outdoor umbrellas are recommended for tables up to 62 inches wide, such as 6-person dining tables or a pair of chaise lounges.
Our award-winning 8′ x 10′ "Incredible" Umbrella (model #719), is a rectangular umbrella that provides shading for large dining areas while being fully functional. No other umbrella of this size can clear the table area as easily while opening and closing. There will be no table or guest interference thanks to its patent-pending spring-loaded hub.
If you are looking for a 10-ft umbrella with a square canopy, we highly recommend model #711.5, a square wooden market umbrella with 8 ribs, pole diameters of 2" or 2 1/4 " and a 10' canopy. This is one of our many umbrellas that can be made with stainless steel hardware trim for marine applications.
Features of the World's Finest Outdoor Umbrellas
Distinctive hardwood grains are preserved by slow kiln drying, sealing, and slow drying of multiple finishes.
A full-length solid ash pole is laminated for strength and protection against warping.
The aluminum flush pole guard protects the pole and minimizes swelling in the stand.
A horizontal multi-laminated hub is reinforced by a band of 12-ply Baltic Birch plywood. The hub design accents strength, keeping the wood girth constant in all weather.
Multi-laminated finial provides further protection against excessive exposure to weather.
Flexible, durable, high-gloss finish for outdoor use.
Solid brass fabric-connecting brackets are sealed with clear lacquer. Solid brass grommets and screws attach the fabric. All screws are flush to protect the fabric when the umbrella is closed.
Heavy, solid brass eye-screw and chain connect the positioning pin.
At American Holtzkraft, we take pride in our work and want to deliver the best quality craftsmanship and products to you. Visit our website to learn more about our 10-ft commercial outdoor umbrellas, or contact us at (570) 539-8945 to place an order.