10 Ft Octagon Patio Umbrellas
Beautiful, customized, and durable American Holtzkraft patio umbrellas, including 10 Ft octagon models, will complete the space with appropriate design and functionality.
American Holtzkraft, founded in 1985, creates world-class commercial umbrellas, cabanas, daybeds, and other custom site furnishings. These, and other high-end materials, paired with our innovations, make the best patio umbrellas on the market. Our headquarters are in Mount Pleasant Mills, PA, an area that supplies locally grown Northern Ash hardwoods and a local population of expert craftspeople within the Pennsylvania Dutch community.
How to Select the Shape and Size of the Umbrella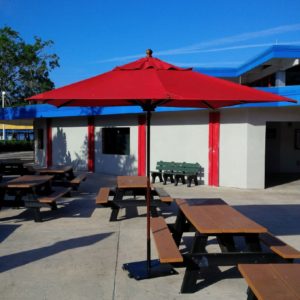 The size of the market umbrellas that you order will determine the level of shade that you're able to provide for your patrons. Commercial umbrella measurements indicate the canopy width, as measured from tip to tip, rather than the umbrella's height.
In addition to the area that needs to be shaded, you'll need to add two feet on all sides to accommodate shade movement.
We create umbrellas in several shapes: octagon, decagon, rectangle, and square. The shape you select should mirror other objects in the area, like the table, seating, flooring design, lighting, etc.
The team at American Holtzkraft stands ready to help perfect the market umbrella design for your hospitality business's outdoor spaces.
Strong and Durable Market Umbrellas from American Holtzkraft
American Holtzkraft market umbrellas are available with two types of poles, wooden or aluminum. The wooden poles are typically made of Northern Ash hardwoods that have been slow-dried via kiln, sealed, and finished with several layers of stain. We also offer Western Cedar and Plantation-Grown Teak. Both are incredibly strong.
Stanchion and stand systems support the poles, and American Holtzkraft offers multiple models and an appropriate option for all environments.
American Holtzkraft Wind-Resilient Market Umbrellas
American Holtzkraft produces the most wind-resilient market umbrella available. The dual venting and fully rotating canopy allow the market umbrella to let the wind flow through rather than against the market umbrella. Wind tunnel testing has demonstrated this model's ability to withstand winds up to 74.5 mph before experiencing damage.
American Holtzkraft Personalized Market Umbrellas
Personalized market umbrellas provide space for branding and design appeal. We offer custom designs featuring specially chosen colors, pleating, stitching, and logo placement. An identifiable visual can quickly become part of a branding campaign. Companies can even opt for exclusive design rights for their companies' market umbrellas.
American Holtzkraft Services
American Holtzkraft offers services as well as products.
We offer refurbishment services for our products and those of our competitors. At our dedicated refurbishment center, we will inspect, repair, and refurbish pieces, saving companies money and limiting waste.
We also have replacement parts within our inventory to make repair and sustainable operations possible.
American Holtzkraft clients in Florida can book SAMs visits from our site furnishing professionals. We can evaluate hospitality venues' Safety, Aesthetics, and Maintenance conditions and suggest remediation.
Whether you need 10 Ft octagon patio umbrellas or another size and shape, rely on American Holtzkraft to deliver. We design and craft superior market umbrellas, cabanas, daybeds, and site furnishings at affordable prices and with low maintenance needs. Discover all that American Holtzkraft has to offer by perusing our online catalog or speaking with our staff at (570) 539-8945.