11 Ft Commercial Outdoor Umbrellas
Provide the ideal balance of functionality, atmosphere, and comfort to your guests with a set of 11 ft. commercial umbrellas to grace the outdoor spaces of your commercial venue. American Holtzkraft site furnishings maximize the environment and offer incredible value for the cost.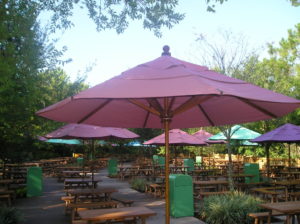 American Holtzkraft has produced superior market umbrellas since 1985. The Northern Ash hardwoods, local Pennsylvania Dutch workmanship, and innovative market umbrella design combine to outclass all competition. Our company is female- and family-owned, and we leverage the resources around our Pennsylvania home.
The custom site furnishings made by American Holtzkraft, including market umbrellas, cabanas, daybeds, accessories, and more, bring together exterior design and welcome patrons appropriately.
When patrons come to your venue, make sure they're highly impressed with the setting. The quality of the market umbrella will play a huge role in this appearance.
Not only do we supply the market umbrellas that you need, but we also offer to customize the market umbrella or any other site furnishings that you need for your space.
By securing a spot for a consultation, our team will collaborate with you regarding the custom design for your exterior furniture.
American Holtzkraft Umbrellas Stand Supreme
The market umbrellas made by American Holtzkraft are made with safety as the priority. The typical, trendy cantilever umbrellas aren't safe, so using them opens you to liability. We manufacture market umbrellas that are stable, safe, and wind resilient. In fact, our umbrellas are proven to withstand 74.5 mph winds in wind-tunnel testing before experiencing damage.
Our inventive stabilization systems, dual venting, and rotating canopy are a few of the six different patents that we hold.
Long-lived market umbrellas made by American Holtzkraft are unique in the space of site furnishings and are highly sought out by hospitality venues throughout the world.
Our clients choose us for our umbrellas' strength, wear-resistance, consistent functionality, and canopy durability and customizations. The canopies resist fading, tearing, UV rays, and staining. We use the absolute best textiles, all sorts of patterns, textures, and colors for the canopy of your market umbrellas.
Personalize your canopy design with help from the team at American Holtzkraft. The numerous options you'll have enable you to create a unique design for your own business's use. By incorporating your business's logo, choosing the shape and size of the umbrella, and selecting the right finish for the umbrella's poles, you can customize the furnishing. The finishes available as options for your Northern Ash hardwood pole include the following:
Teak
Natural
Mahogany
Stonehenge Gray
White Wash
Black Enamel
White Enamel finishes.
More than producing market umbrellas, American Holtzkraft offers a service center that provides maintenance, repair, and refurbishment services. We're able to help clients offer comfort and protection for their clients, enhancements to the design, and value for your money.
The clients we serve in Florida can also choose a SAM visit. This visit will allow you to check out the Safety, Aesthetics, and Maintenance of the exterior of the venue spaces.
Commercial establishments searching for the best 11-ft outdoor umbrellas will find the solution here at American Holtzkraft. We make it easy to personalize to provide the best appearance, functionality, and value. Learn more by calling (570) 539-8945 or contacting us online.