12 Ft Commercial Outdoor Umbrellas
Well-made, stylish 12 ft. commercial outdoor umbrellas bring elegance and protection to large areas, and American Holtzkraft is the best designer and producer in the industry to source them. Buy from us for a design and structure that will remain functional and beautiful for years and customer service that will put your satisfaction first.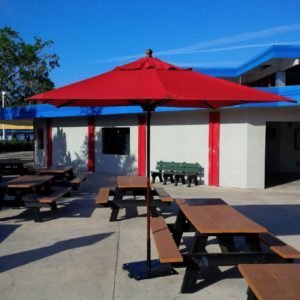 From theme parks to beach-side resorts, restaurants, country clubs, and other hospitality businesses, market umbrellas offer more than shade. Whether a space needs one large umbrella, several smaller options, cabanas, or other site furnishings, call on the team at American Holtzkraft for help with layout, preferred specs, or design features.
When considering the layout for your dining, event, or guest outdoor areas, careful planning is essential. You'll need to determine the size and number of umbrellas required, so start with the square footage of the space in question.
When creating shade, consider the movement of that shade created by the sun's movement throughout the day. The area you want to shade should have two to three feet of easement on each side to account for moving shade and walking room for guests, servers, etc.
The diversity of size, shape, color, and design offered by American Holtzkraft is available for larger market umbrellas and smaller sized ones.
The ingenious design and remarkable craftsmanship of American Holtzkraft market umbrellas stand out as functionally and aesthetically superior. Our products can be customized to suit the ambiance and brand of your company.
The Ultimate in Market Umbrellas
American Holtzkraft began producing quality market umbrellas in 1985. We are a small family business headquartered in Mount Pleasant Mills, PA. We avail ourselves of the talent and natural resources of the local area. With the craftsmanship of the Pennsylvania Dutch artisans, the Northern Ash hardwoods of the region, and an ingenious, wind-resilient design, we produce the very best market umbrellas available.
We have designed, developed, and produced stylish and durable market umbrellas, canopies, daybeds, and site furnishings for an array of high-end hospitality customers. As we continually strive for perfection, we provide a plethora of options, proven safety, and total customer satisfaction for all.
Standard Features of American Holtzkraft Wooden Umbrellas
The wooden market umbrellas we offer are made from fine materials and come in various shapes, including rectangle, decagon, octagon, and square.
The Northern Ash hardwood we use is dried slowly within a kiln and sealed with the finish of your choice: teak, natural, mahogany, Stonehenge gray, whitewash, black enamel, and white enamel. Laminated for strength against warping and degradation, these wooden poles will withstand the tests of time and exposure. Customers can also harness the strength of aluminum for their market umbrella purchases.
Our market umbrellas are wind-tunnel tested to ensure durability. With the mechanism that allows for full rotation of the canopy and dual venting, American Holtzkraft umbrellas will laugh in the face of high winds, as demonstrated by wind test results that had no damage up to 74.5 mph winds.
The potential design and layout for your commercial outdoor spaces aren't limited when you choose anything from 6 ft, 8 ft, 12 ft, or other sized umbrellas from American Holtzkraft. Place your queries or orders by reaching out online or calling (570) 539-8945.