5 Ft Commercial Outdoor Umbrellas
Form and function come together to impress and protect patrons when hospitality venues choose 5-ft. commercial outdoor umbrellas from American Holtzkraft. We offer a wide range of quality market umbrellas, cabanas, daybeds, and other site furnishings.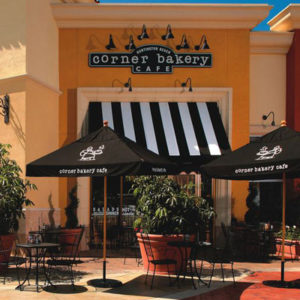 Founded in 1985 and headquartered in Mount Pleasant Mills, PA, American Holtzkraft is a female-owned and operated company. We're committed to producing the highest quality market umbrellas and outdoor furnishings available. We proudly serve clients the world over with pieces that leverage the strength of local hardwoods, the ingenuity of our patented designs, and the workmanship of the local Dutch Pennsylvania population.
Not only do we offer the absolute best in site furnishings, but we also provide satisfying customer service. Every client deserves the best, which we deliver every time.
The choice of American Holtzkraft site furnishings brings our clients durability, the benefit of on-site repair when required, and even a second life through refurbishment services. We promote the long life of our pieces and provide our clients freedom from repeat purchases of necessary equipment.
Incorporate Protection from Glare, Heat, and Burn
The size and shape of the market umbrellas required for your venue will depend on the purpose they need to serve. For instance, the 5-foot market umbrella will provide sufficient shade for a small couple- or single-style seating arrangement. Remember that the umbrella should extend 2-feet on all sides beyond the area you want to shade to retain shade throughout the day.
With American Holtzkraft craftsmanship, you can enhance the functioning of your market umbrella by choosing to emblazon your logo, branding colors, and unique pleating to create an eye-catching and pleasing result without an iota of functional sacrifice.
What to Expect from American Holtzkraft Fine Market Umbrellas
Wooden market umbrellas from American Holtzkraft provide Northern Ash hardwood composition for longer, more functional lives. The canopies atop these umbrellas are similarly made to last. From the fabrics to the threading and hardware, every material in our umbrellas provides durability to the fullest extent. We also offer your choice when it comes to fabric, pleating, stitching, logo placement, and more.
The wind resilience of our market umbrellas is reasonably well known. The patented design enables the umbrella to fully rotate around the pole while allowing for airflow through dual venting within the canopy. These two wind-tunnel-tested features allow this umbrella to withstand winds up to 74.5 mph before suffering damage.
We also produce market umbrellas with aluminum pole structures. No matter the environment, the materials used within the design are durable, functional, and sleekly appealing. The design also makes on-site repair simple, a lifesaver for kiosks and other ventures.
The features included in this aluminum market umbrella consist of a brushed finish, a marine-grade aluminum pole, a rotating canopy, stainless steel hardware, solid aluminum finial, and double-stitched reinforced pockets.
Furnish the patio or poolside of your hospitality venue with 5-ft. commercial outdoor umbrellas from American Holtzkraft. Our products provide durability, customization, aesthetic, and functional comfort and protection for your guests. In addition to market umbrellas, we offer cabanas, daybeds, and other site furnishings, of which you can discover more by calling (570) 539-8945 or browsing our online catalog.