6 Ft Commercial Outdoor Umbrellas
Keep the sun out of your guests' eyes on poolside chaise lounges at your hotel or resort and make the dining areas of your café or restaurant more comfortable with 6-ft commercial outdoor umbrellas from American Holtzkraft.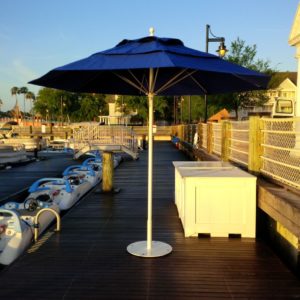 Multiple coats of marine varnish increase weather and water resistance
Varnish is specially formulated with ingredients that screen out the destructive UV rays of the sun
VOC compliance meets clean air standards
Clear air formula
Wood Stains
Penetrates and seals the wood from moisture while adding rich color
Semi-transparent feature shows wood grain and adds long-lasting protection
All umbrellas and furniture products are available in a variety of wood species, including Plantation-Grown Teak and Western Cedar
Features of the World's Finest Aluminum Umbrellas
American Holtzkraft aluminum outdoor umbrellas bring strength and durability to every poolside or café environment. The new and improved hub is solid aluminum, machined down to a sleek modern design. Each rib is fastened to the hub via stainless steel pins secured by large screws, making it easy to repair them in the field.
Standard features include:
Brushed aluminum finish
Marine-grade tempered aluminum pole provides lasting strength and durability
Rotating canopy (Patent No. 5020557) releases wind-induced stress from the pole and hubs
Stainless steel hardware and neoprene spacers protect all moving parts from corrosion and allow for easy operation
Double-stitched reinforced pockets secure the canopy to the ribs of the frame, guaranteed not to fail
New and improved solid aluminum finial
American Holtzkraft 6-ft commercial outdoor umbrellas (and umbrellas of many other sizes) will provide your guests with year-round protection. When you select one of our products, you know you've made the perfect choice! Call (570) 539-8945 to place an order.