7 Ft Outdoor Patio Umbrellas
Investing in high-quality American Holtzkraft outdoor patio umbrellas will outfit your venue perfectly, whether you require 7 Ft rectangular pieces or another size and shape altogether. The quality and versatility of our umbrellas, cabanas, daybeds and site furnishings will suit any hospitality endeavor.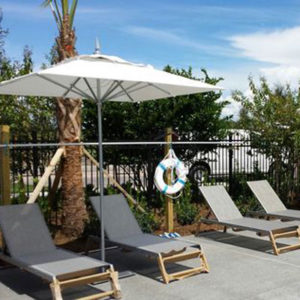 American-made since 1985, Holtzkraft site furnishings are innovatively designed, made with quality materials, and handcrafted by experts. We operate out of Mount Pleasant Mills, PA, where Northern Ash hardwoods abound, and the artistry of the Pennsylvania Dutch community supplies durability and specialization. 
Determining the Umbrella Size to Order
Size may be the most important factor to consider when ordering market umbrellas. When an umbrella's size is displayed, the number refers to the width of its canopy, not its height. Measurements are taken from the umbrella's rib tip to rib tip.
An additional two feet on each side of the umbrella canopy is an essential part of the design. This coverage allows the shade to continue as its position changes throughout the day.
The shape of the canopy should mirror the space you need to shade as well as other features of the area. In our catalog, you'll find decagon, octagon, rectangle, and square options.
Choosing the number and size while planning the best layout can be difficult, but our experts need just a few pieces of information to help sort out the ideal design and layout for your venue's purpose and appeal.
The Long Life of American Holtzkraft Umbrellas
American Holtzkraft market umbrellas are available with aluminum or wooden poles. Wooden poles consist of Northern Ash hardwoods in most cases; this wood is the hardest of the hardwoods grown in North America, and baseball bats are made of this wood. Other wood options for poles include Western Cedar and Plantation-Grown Teak.
Each wooden pole has been slow-dried with a kiln, sealed, and finished with several layers of finish in any of the following shades:
Teak

Natural

Mahogany

Stonehenge Gray

White Wash

Black Enamel

White Enamel
The bases and stands from American Holtzkraft are strong, sturdy, and versatile. No matter the environment, we can ensure that your market umbrellas will stay in place safely until you're ready to move them.
Resistance to damage from wind is critical to a long-lasting exterior use market umbrella. This design features canopies that rotate completely around its axis and allow dual venting. The wind blows through the umbrella rather than against it, allowing it to withstand 74.5 mph winds before experiencing damage, as proven during wind-tunnel testing.
Specifications for Market Umbrella Orders
The specifications that we allow for market umbrella orders make American Holtzkraft a leader among the makers of quality site furnishings. Our catalog is full of safe and durable pieces, available with all sorts of customizations, including your choice of:
Pole composition and color

stand/base options

Shape

Size

Canopy color

Canopy pattern and logo placement

Valances and stitching
Companies can even choose to have exclusive rights to their designs with American Holtzkraft. 
We also offer refurbishment services for our products and those of our competitors, along with SAMs visits for our Florida clients. These visits can examine and remedy problems with Safety, Aesthetic, and Maintenance issues related to the exterior portions of venues.
The visual appeal, long life, and full functionality of American Holtzkraft 7 Ft outdoor patio umbrellas improve every hospitality business. To explore how our products can perfect your patrons' experiences, check out our catalog or call (570) 539-8945.