8 Ft Octagon Patio Umbrellas
Exterior hospitality spaces require high-quality patio umbrellas, including 8 ft octagon or round designs. American Holtzkraft is the world's best provider of market umbrellas, cabanas, daybeds, and other site furnishings. 
The Source of American Holtzkraft Quality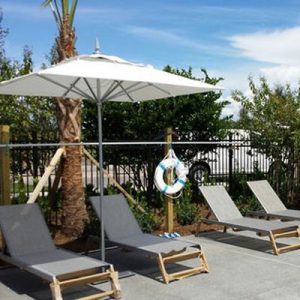 Ingenious design, the most robust materials, and expert workmanship come together in our products at American Holtzkraft. We leverage the following:
Northern Ash hardwoods, the hardest of the hardwoods grown in North America;

Pennsylvania Dutch craftspeople, highly skilled artisans of hand-crafted pieces;

Innovative design, including six different patents held by American Holtzkraft;

High-quality materials include textiles, multi-laminated hubs and finials, solid brass hardware, and more. 
The Awards for Design Excellence, or ADEX, recognize the quality of our product designs, including market umbrellas that withstand high winds and sun exposure. According to the Guinness Book of World Records, the largest outdoor umbrella was made by American Holtzkraft! 
Market Umbrellas Made to Order
American Holtzkraft provides market umbrellas and other site furnishings made according to your specifications. In addition to providing the shade and quality you require, the customization potential of our pieces offers aesthetic appeal and branding opportunities. 
The canopy is the umbrella section with the most potential for visual personalization. The design can be as low-key or overt as you desire, with branding made clear through color and pattern choices or a large emblazoned logo. Select the color, pleating, stitching, design, and logo placement for your market umbrella's canopy.
Selection of the Most Appropriate Shape and Size for the Market Umbrella
Getting the shape and size right when you order American Holtzkraft market umbrellas is essential. Our team can help as you make these decisions, but we can provide a few rules of thumb to guide your planning.
First, the table, chair, and other surrounding features guide the shape of the market umbrella, and the size should cover the space in question plus two feet on each side. The additional size of the umbrella accounts for the shade movement as the day continues. We offer several canopy shapes for purchase, including octagon (round), square, decagon, and rectangle canopies.
The Octagon "Round" market umbrellas that we offer in our catalog include the following:
Model #701 6' Octagon Umbrella –  (1-1/2" Pole)

Model #702 8' Octagon Umbrella –  (1-1/2" Pole) or (1-1/2" Steel Reinforced Pole)

Model #703.5 10' Octagon Umbrella –  (1-1/2" Steel Reinforced or 2" Pole)

Model #705 12.5' Octagon Umbrella –  (2" Steel Reinforced or 2-3/8" Pole)

Model #706 15' Octagon Umbrella –  (2" Steel Reinforced or 2-3/8" Pole)

Model #722 15' Decagon Umbrella –  (2-3/8" Steel Reinforced Pole)
Built for Use and a Long Life
Northern Ash lumber is the hardest of the hardwoods grown in North America and is used to produce baseball bats. We use this wood, slow dry it with a kiln, apply sealant, and several layers of finish in the shade you choose: teak, natural, mahogany, Stonehenge gray, white wash, black enamel, or white enamel. Wooden poles also have an aluminum pole guard for protection against warping.
The hubs of American Holtzkraft market umbrellas are multi-laminated and reinforced with stainless steel hardware, which is also sealed with clear lacquer. Solid brass components connect each piece as well. 
Explore American Holtzkraft products, including our 8 Ft octagon patio umbrellas, by browsing our online catalog or discussing the options with our team by calling (570) 539-8945.