8 Ft Outdoor Patio Umbrellas
American Holtzkraft provides 8 ft outdoor patio umbrellas as part of a wide range of available site furnishings. We can cater to your outdoor furnishings needs regardless of your preferred size, shape, and design. With comprehensive custom potential, we offer the highest level of quality that you'll find in the industry.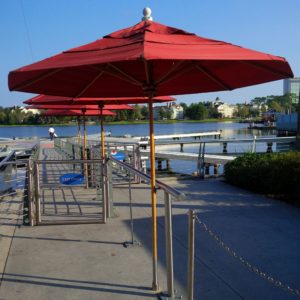 American Holtzkraft has produced top-notch market umbrellas and other site furnishings since 1985. We're a female-owned small business with design innovation, the impressive quality of materials, and expert workmanship needed for hand-crafted magic.
In addition to the locally sourced Northern Ash hardwoods, we employ the specialists of the local Pennsylvania Dutch population to produce durable and appropriate site furnishings. Custom site furnishings, including market umbrellas, cabanas, daybeds, accessories, and more, built by American Holtzkraft, will satisfy the needs of your hospitality venue for years and years to come.
A hospitality venue's market umbrellas and other site furnishings should be high on your list of considerations when designing the exterior spaces. You'll need quality and durability, but aesthetics also pack quite a punch when the goal is to impress guests. 
We provide personalization options for all site furnishings. The team here at American Holtzkraft will be happy to work with you to create pieces that meet the functional and visual needs of your business. 
The American Holtzkraft Difference
Professional-use market umbrellas must provide safe and stable installation far beyond a regular patio umbrella. American Holtzkraft market umbrellas provide this stability through several systems to accommodate various environments. In fact, during wind-tunnel testing, our wind-resilient market umbrellas are proven to withstand 74.5 mph winds before experiencing damage. We also hold six different patents that make our products stand out in the field.
These wind-resilient market umbrellas have dual canopy venting and a rotating canopy that allows winds to flow through the umbrella rather than against the canopy. Less pressure from the wind allows the umbrella to avoid damage.
American Holtzkraft market umbrellas function smoothly and resist wear. They resist fading, UV rays, and mold growth. Season after season, you'll have site furnishings that are easy to clean and maintain. You can even repair them in the field in most instances, and when time finally takes its toll, the strong frame will welcome refurbishment.
The American Holtzkraft dedicated service center provides maintenance, inspection, repair, and refurbishment to market umbrellas that we build and those of our competitors. 
Custom design every aspect of your market umbrella, from the pole material to the canopy design, logo, and more. Personalization of design through American Holtzkraft is a key advantage. The catalog includes options, including designing site furnishings exclusively for your company's purchase.
While you can choose any shade imaginable for the canopy of your market umbrella, the finish options for your pole are a bit more limited. Wooden poles may be Northern Ash, Western Cedar, or Plantation-Grown Teak with finishes of Teak, Natural, Mahogany, Stonehenge Gray, White Wash, Black Enamel, and White Enamel.
Aluminum poles are available in either brushed aluminum or powder coat finishes.
Outdoor patio spaces that require 8 Ft market umbrellas should reach out to American Holtzkraft. We have an assortment of options and encourage you to explore our online catalog or reach out by phone at (570) 539-8945.