9 Ft Commercial Outdoor Umbrellas
The beauty of American Holtzkraft 9 ft commercial outdoor umbrellas is instantly apparent. We are prepared to help you find the perfect umbrella to meet the needs of your restaurants, resorts, or theme parks.
American Holtzkraft is a female-owned business founded in Mount Pleasant Mills, PA, over 35 years ago to take advantage of the plentiful high-quality hardwood and famous Pennsylvania Dutch craftsmanship in Pennsylvania to produce the finest market umbrellas, cabanas, daybeds, site furnishings, and accessories in the industry.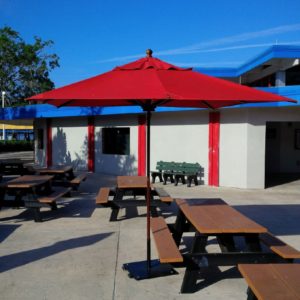 Depending on your location and weather conditions, your commercial umbrellas could be exposed to many different types of weather, from long-term sun exposure to snow to downpours of rain. In Florida, for example, the typical weather is warm and fairly humid, and daily thunderstorms are the norm. The umbrellas you choose should have canopies that offer protection from mold and mildew.
Fade-Resistant
Your outdoor umbrellas will be exposed to direct sunlight for hours. If they are made from fabrics that are not made for commercial purposes, they will quickly look old and faded. Consequently, it's essential to choose a fade-resistant fabric. We also recommend selecting a thick UV-resistant canopy fabric to protect your guests from the potential hazards of sun exposure.
American Holtzkraft has hundreds of fabrics to choose from in various solids, stripes, and textures. Canopies can be constructed with double folded and triple stitched marine-grade acrylic fabrics with ultraviolet (UV) protected thread for matching the longevity of fabric and thread.
The Bottom Line
From manufacturing the finest market umbrellas available, to custom-designing whatever you need, to the logistics of fulfilling your order to inspecting, replacing parts, repairing, and refinishing our umbrellas when and where necessary, American Holtzkraft can address all of your needs.
You will see American Holtzkraft 9 ft commercial outdoor umbrellas all over the world. Visit our website to learn more about them, or get in touch with us at (570) 539-8945 to place an order.