9 Ft Outdoor Patio Umbrellas
The custom patio umbrellas provided by American Holtzkraft enhance the outdoor spaces of your hospitality venue whether you need a 9 Ft or other size pieces. Our creations consist of fine materials made with hand-crafted perfection and innovative genius. When your venue requires umbrellas, cabanas, daybeds, accessories, or other site furnishings, depend on our experience and expertise to fulfill your space's needs well.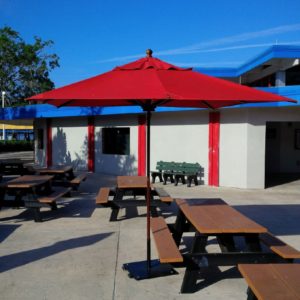 American Holtzkraft's team of designers welcomes the opportunity to help create personalized market umbrellas and other site furnishings. Market umbrellas' canvases provide strength and the opportunity for design and branding. The visual appeal should mirror the tone of the business and the particular space.
Hospitality venues can come to us for site furnishings – restaurants, hotels, resorts, theme parks, water parks, country clubs, cruise ships, and beyond.
By creating a thoughtfully designed custom set of market umbrellas, you can cement a branding trend for your company, as many businesses across the globe have discovered. Over the past four decades, we've stretched our footprint to all corners of the world.
American Holtzkraft has six patents allowing us to offer customers market umbrellas for specific purposes and environments. We offer wind-resilient umbrellas as well as base systems that work with a variety of settings. Putting safety first, we abstain from creating cantilever umbrellas because they do pose a risk. 
The Advantage of Choosing American Holtzkraft
As you seek out providers of market umbrellas for hospitality venues and consider all of your options, consider the reputation and experience of American Holtzkraft. Our commitment to satisfaction is comprehensive; we go through whatever measures are necessary to achieve it. 
We are the best in the industry, providing top-notch products and maintenance, repair, and refurbishment services for our products and those manufactured by other companies.
The visual appeal of the American Holtzkraft market umbrella is essential, but we also focus on the function and durability of the piece. Components of our creations include stainless steel hardware, solid brass brackets, solid brass grommets and screws, aluminum flush poles, and wooden or aluminum poles. 
Wooden poles are primarily made of Northern Ash, although we do offer other hardwoods, including Western Ceder and Plantation-Grown Teak, in the following finishes:
Teak

Natural

Mahogany

Stonehenge Gray

White Wash

Black Enamel

White Enamel.
Aluminum poles are available in a brushed aluminum or powder coat finish.
All market umbrellas and other site furnishings we produce are made in the USA. They're hand-crafted by the Pennsylvania Dutch craftspeople according to innovative designs used by American Holtzkraft alone.
The strong material that creates American Holtzkraft canopies is available in various colors, textures, patterns, stitching, pleating, and logo design and placement. This canopy can be in your choice of shape and size as well. 
Another service that we offer is specifically for Florida clients. They can schedule a SAMs visit, where we will come in and evaluate your venue's Safety, Aesthetic, and Maintenance elements.
Does your hospitality business require 9 Ft outdoor patio umbrellas? We suggest American Holtzkraft to fulfill your needs and urge you to consider the potential orders based on this online catalog. You can reach out to us for orders or answers to questions by calling (570) 539-8945 or emailing [email protected].