Aluminum Market Umbrella
Blend the warmth of wooden commercial umbrellas with the durability and hardiness of an aluminum market umbrella when you choose pieces from American Holtzkraft. We meet the site furnishing needs of a wide range of hospitality businesses worldwide.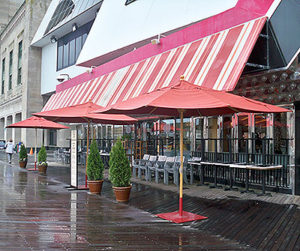 Since 1985, American Holtzkraft has provided innovation-led market umbrellas, cabanas, daybeds, and site furnishings made from the finest quality materials using the craftsmanship of the Pennsylvania Dutch population near our headquarters in Mount Pleasant Mills, PA.
In addition to creating all of the site furnishings for your business, we also provide refurbishment and repair services. We will replace damaged parts, repair, sew, and refinish aged pieces, and then deliver the like-new pieces to your venue.
Choose Aluminum Market Umbrellas
The market umbrellas from American Holtzkraft are made to withstand exposure, use, and time better than any other option you'll find on the market.
We employ a new style hub made of solid aluminum with a sleek, contemporary appearance. The ribs are attached individually to this hub with stainless steel pins and large screws, so if the umbrella malfunctions, you'll be able to provide repairs on-site.
The patented rotating canopy and dual venting system allow you to rely on your market umbrellas in high wind conditions. In wind-tunnel testing, these umbrellas have been proven to withstand winds up to 74.5 mph before being damaged.
The aluminum market umbrella is ideal for various purposes, including kiosks, pop-up shops, food trucks/carts, and more.
Key Features of Aluminum Market Umbrellas
Solid aluminum finial
Pole made of marine-grade aluminum
Rotating canopy (Patent No. 5020557)
Brushed aluminum finish
Stainless steel hardware and neoprene spacers keep the moving parts from rusting
Reinforced, double-stitched pockets that affix the canopy to the frame
Double-vented canopy permits air to flow, reducing stress on the fabric
Powder coat finish
Indestructible pultrusion ribs
American Holtzkraft aluminum market umbrellas also provide a variety of sizes and shapes.
The new design we offer includes a doubled pole system for superior strength and a compression system to raise the ribs for table clearance. This umbrella style also comes with a machined aluminum hub and removable U-brackets, a UHMW plastic insert in the hub to prevent the pole from being scratched, a compression knob that replaces the pin and chain, and our proven, guaranteed-to-last reinforced pockets that secure the canopy to the frame.
This particular style of aluminum market umbrella has to be tied down when closed and is only available with single venting canopies.
Why Choose American Holtzkraft
Clients looking for market umbrellas that can be customized and relied upon for years upon years to come should choose American Holtzkraft. As the name implies, we produce our products in the US, as handcrafted pieces made according to your specifications down to the last detail.
The fabrics available for your aluminum market umbrella come in a wide range of options. You can customize the designs, textures, colors, and other options regarding the fabric and then take the customizing a step further with your choice of pleating, stitching style, and even logo placement.
An aluminum market umbrella from American Holtzkraft will surpass your every expectation. No matter the type of hospitality business you operate, invest in pieces that last by reaching out online or calling (570) 539-8945.