Aluminum Outdoor Umbrella
The aluminum outdoor umbrella line from American Holtzkraft is distinctly superior in quality and appearance to others in the market. When your hospitality venue requires shade for seating or relaxing, rely on us to deliver high-end and remarkable site furnishings.
About American Holtzkraft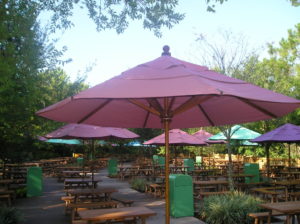 American Holtzkraft has served the hospitality sector with innovative, stylish, and durable market umbrellas, daybeds, cabanas, accessories, and more for nearly four decades. We coordinate the ingenuity of our design with the finest materials available and the specialty workmanship of experts to produce our products. Additional services include refurbishment and repair as well as comprehensive customer service.
Design the Ideal Setting for Your Business's Brand and Purpose
The hospitality sector, by and large, requires some form of market umbrella for outdoor settings. From dining areas to poolside and beachside, you must provide patrons with refuge from the elements when welcoming them to outdoor venues.
Our efforts focus on client needs and product quality to meet our goals, and we go the extra mile for all of our customers to make sure that they're pleased with the furnishings and the experience. Our Florida clients can even take advantage of SAMs visits, where our specialists will evaluate the outdoor furnishings' safety, Aesthetics, and Maintenance needs.
As you shop around for the best deal on quality aluminum market umbrellas, bear in mind that American Holtzkraft provides the most cost-effective, quality solution. In addition to aluminum market umbrellas, we produce wooden market umbrellas made from the hardest of the North American hardwoods, the Northern Ash.
The umbrellas that you choose for your resort space, country club, hotel, restaurant, water park, theme park, or luxury apartment complex can cement the brand identity in the mind of the guest through customization of color, design, and logo placement.
The investment you make in your company's market umbrellas will be well worth what's spent. The pieces will last for several years, and their durability is without question. Choose a dual venting option with a rotating canopy around the pole for a highly wind resilient umbrella. In wind-tunnel testing, umbrellas with these features have been shown to experience winds up to 74.5 mph before being damaged.
The Sunbrella material used for the canopy, while available in a wide range of styles and colors, will resist fading, staining, and mildewing. The fabric also resists the penetration of UV rays for even greater guest protection.
Safety, quality, and customer satisfaction drive every design we create, and every order fulfilled.
American Holtzkraft also provides stabilization systems for all settings. With the right match for the market umbrella and the area, you can be confident in the stability of your market umbrellas.
For help with your purchase, give the specialists at American Holtzkraft a call at (570) 539-8945 to develop the custom design for your needs.
Impressing your guests while keeping them comfortable and safe becomes far more manageable with market umbrellas from American Holtzkraft. We offer durable canopies, stable installation, wind-resistant features, and more.
For the best quality aluminum outdoor umbrella, turn to American Holtzkraft. Check out the various offerings within our online catalog to view the site furnishings, daybeds, cabanas, and accessories we offer, in addition to wooden and aluminum umbrellas. We await the opportunity to help perfect your venue's outdoor aesthetic and functionality.