Aluminum Patio Umbrella
Hospitality businesses like restaurants, hotels, water parks, theme parks, and others who invite guests to outdoor areas need to provide refuge from the sun's heat and UV rays. American Holtzkraft supplies a great aluminum patio umbrella that is proven to withstand high winds, element exposure, heavy use, and the tests of time.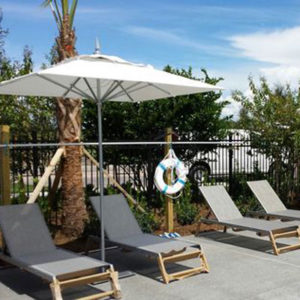 American Holtzkraft combines innovative, patented designs; world-class workmanship; and the finest materials available to produce market umbrellas, cabanas, daybeds, and other custom site furnishings.
Purchase Market Umbrellas
The designers, landscape architects, and other professionals who design outdoor venues should purchase market umbrellas based on quality and the particular needs of your space and business. If you have questions, we urge you to call for help from our specialists.
Imagine the disappointment, frustration, and schedule disruption that could occur if you order the wrong size, shape, or number of market umbrellas to suit the needs of your venue. From the size of the area to its use, several factors should drive your purchase. We'll be happy to work together to help you determine these factors, as well as any customization options you'd like to choose.
One factor that won't affect your choice when you shop with us is hardiness. The time spent outdoors in the blaring sun, high wind, heavy rains, and other outdoor elements can cause damage. Still, with our products, those effects take far longer to have an impact on the appearance and functionality of the market umbrella. We make all of our products to withstand the tests of time and use. Canopies of an American Holtzkraft market umbrella are made of Sunbrella fabric that resists UV penetration, fading, staining, and tearing.
A market umbrella relies on a robust and supportive pole. American Holtzkraft employs the hardest hardwoods in North America, the Northern Ash, for our wooden market umbrellas and marine-grade aluminum for our aluminum market umbrellas to resist corrosion.
Choosing between the two largely depends on how you intend to use your market umbrellas. The wooden market umbrella offers less mobility and flexibility than an aluminum market umbrella. Each type of market umbrella offers custom options related to logo placement, canopy color, design, pleating, and stitching.
The primary goal of design with American Holtzkraft is safety. We have patented systems that promote stabilization and wind resistance. Choosing to purchase your venue's site furnishings from American Holtzkraft protects the patrons you welcome to your space.
American Holtzkraft supports our clients comprehensively, supplying quality products and meeting all expectations. Our customer service and accountability are second to none. We recognize that mistakes will happen, but we will always correct the situation.
You can also choose our repair and refurbishment procedures to return aging market umbrellas to new-ish conditions. We will replace parts and more and deliver the refurbished pieces once complete.
American Holtzkraft clients in Florida can schedule a SAMs visit, where we come in and evaluate the Safety, Aesthetics, and Maintenance aspects of the venue.
As the foremost provider of aluminum patio umbrella product lines, American Holtzkraft offers quality site furnishings in various styles, even creating them to your specifications. Learn more by perusing our online catalog or calling (570) 539-8945.