Aluminum Patio Umbrellas for Hotels
High-end aluminum patio umbrellas for hotels come from American Holtzkraft. Personalization, variety, and quality mark all of our products, and we serve all businesses within the hospitality industry, providing incredible cabanas, daybeds, commercial umbrellas, and other custom site furnishings.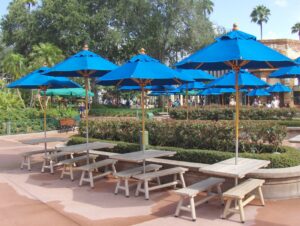 Our collaborative ordering process at American Holtzkraft combines ingenious design, quality materials, and hand-crafted excellence. Only the best materials and expert workmanship go into the implementation of our innovative designs. You'll not find better crafted, stronger, or more appropriate company furnishings.
American Holtzkraft has a long history of brilliant design creation. We have won many awards, including from the ADEX Awards for Design Excellence, and we have several different patents, including all of the following:
Thatch umbrella
Fan umbrella
Misting umbrella
Two-piece self-locking pole stand
Rotating canopy umbrella
Automatic opening umbrella.
Branding, Design, and Image
Get more bang for your buck by investing in quality products from American Holtzkraft. Our products provide visual appeal and ideal functionality, and we will custom-create pieces to best meet your needs. Consult with the American Holtzkraft team to design a piece that will surpass your expectations.
A custom-designed canopy can have the color, shape, texture, print, trim, valance, panel design, pleating, and logo placement of your choice. These customizations provide great potential for branding and furthering a new or long-held company design. We even offer exclusive rights of use for the design that you create if you opt for this privilege.
American Holtzkraft Aluminum Market Umbrellas
American Holtzkraft market umbrellas provide longevity and strength. We offer several models, including a rotating canopy for wind resistance. The featured hub is solid aluminum; the rib connections to the hub feature stainless steel pins held on by large screws. This design allows for easy in-field repair, not to mention dependable performance despite the weather.
Standard features for aluminum umbrellas:
Solid aluminum finial
Marine-grade aluminum pole
Rotating canopy
Brushed aluminum finish
Stainless steel hardware and neoprene spacers
Double-stitched reinforced pockets
Optional features for aluminum umbrellas:
Double vent (lets air vent through the canopy)
Unbreakable pultrusion ribs
Powder coat finish
Models that combine dual venting and a rotating canopy are incredibly wind-resilient. Wind tunnel testing demonstrates that this model can withstand winds up to 74.5 mph before damage occurs.
Another incredible model is the Auto-Opening option. It utilizes a unique inner/outer pole system paired with a special compression device that lifts the ribs to clear the table as it opens. This model is available as the 8′ Hexagon or 7′ Square umbrella.
The features that this model has include a machined aluminum hub with removable U-brackets, a UHMW plastic insert within the hub that prevents scratching of the pole, a compression knob instead of a pin and chain, guaranteed foolproof reinforced pockets connecting the canopy to the frame's ribs, ties for protection when closed, 80" head clearance, available with one vent, and a standard auto opening feature.
Ready to craft the perfect order for your venue? Choose American Holtzkraft for all of your site furnishing needs, including aluminum patio umbrellas for hotels. Need further inspiration? Check out our project gallery, call us at (570) 539-8945, or email [email protected] to discuss your needs with our team.