Aluminum Patio Umbrellas for Resorts
Discover the best aluminum patio umbrellas for resorts and other hospitality spaces with American Holtzkraft. Lasting quality and custom features mark all of our efforts.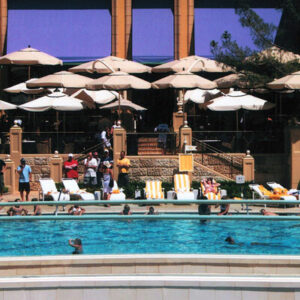 American Holtzkraft is a female-owned small business headquartered in Mount Pleasant Mills, PA. Since 1985, we have produced quality site furnishings using premium materials, ingenious designs, and experts in hand-crafted skills.
Aluminum Market Umbrellas
American Holtzkraft's aluminum market umbrellas are available with a few standard features that make them stand out in the world of site furnishings:
Solid aluminum finial
Marine-grade tempered aluminum pole
Rotating canopy
Brushed aluminum finish
Stainless steel hardware and neoprene spacers (protect from corrosion and promote ease of operation)
Double-stitched reinforced pockets (fail-proof connection of the canopy to the frame's ribs)
Our aluminum umbrellas can also be ordered with a few optional features:
Double vent
Unbreakable pultrusion ribs
Powder coat finish
The Auto-Opening Incredible Aluminum Umbrellas are available as an 8' Hexagon or 7' Square. This system utilizes an inner/outer pole system alongside a compression device to lift the ribs and clear the table as it opens.
Wind-Resilient Brilliance in an Aluminum Umbrella
Two features that allow our umbrellas to resist wind damage include dual venting and a rotating canopy. Since these two elements allow winds to flow through rather than against the market umbrella, it lets the umbrella avoid damage. Wind tunnel testing has demonstrated these features with damage-free results up to 74.5 mph winds.
Suggestions for Planning Your Purchase
The first decision to make when planning your market umbrella purchase is your canopy's shape and dimensions. Umbrella measurements indicate the length stretched from one end of the rib to the other; these measurements do not indicate the height.
With the space measurement, you'll need to add an extra two feet to accommodate the shade as it moves through the day. The shape should reflect the shape of the surroundings – tables, buildings, and architectural features.
Our team has experience and expertise you should fully leverage as you make these calls. Reach out for our guidance! We have many years of experience helping clients perfect their purchases.
American Holtzkraft market umbrella customization potential is a huge benefit of shopping with us. Every feature can be personalized:
Pole material – wooden or aluminum
Pole finish
Size
Shape
Canopy color
Canopy pattern
Pleating, panels, trim choices
Stitching
Logo design and placement
Additional Services from American Holtzkraft
The priority of American Holtzkraft is to perform for our customers. When things go awry, we make them right. Our customer service is dedicated and 100% for all accounts.
We also provide refurbishment and repair services. Bring us your tired and worn-down site furnishings, and we'll return them to like-new condition. The brand doesn't matter. If the bones are good, we can give pieces a second life.
SAM visits for our Florida clients are also key. We evaluate your business's Safety, Aesthetic, and Maintenance aspects and provide suggestions and actions for improving any deficiencies.
The aluminum patio umbrellas that American Holtzkraft offers for resorts and other hospitality businesses are outstanding. We also provide wooden market umbrellas, cabanas, daybeds, and other custom site furnishings. For more inspiration, check out our project gallery and our online catalog, or reach out by phone at (570) 539-8945 to discuss the options with our team.