American Made Patio Umbrellas
Strength and durability are the key characteristics of American Holtzkraft's American-made commercial patio umbrellas. If your restaurants, resorts, hotels, or theme parks need more shade, you can trust our products to deliver sophisticated designs, comfort, and ease of use.
American Holtzkraft is a female-owned business founded in Mount Pleasant Mills, PA, over 35 years ago to take advantage of the plentiful high-quality hardwood and famous Pennsylvania Dutch craftsmanship in Pennsylvania to produce the finest market umbrellas, cabanas, daybeds, site furnishings, and accessories in the industry.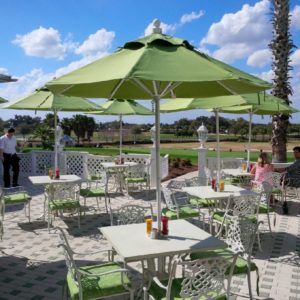 Our umbrellas are proudly handmade in the USA with the highest quality materials and extraordinary attention to detail. The craftspeople who make our umbrellas take great pride in their work, and many of the design elements that make our products unique have been patented to protect their originality.
We are also proud of the awards and honors we've earned throughout the years, such as the Awards for Design Excellence (ADEX) for superior product design and quality. ADEX is the largest and most prestigious awards program for product and project design in the A&D industry.
What Makes Our Umbrellas Stand Out?
Market umbrellas have a straight wood or metal shaft in the middle, a fabric shade or canopy, and a base at the bottom. The main features include:
Umbrella Canopy – Market umbrellas should be durable, fade-resistant, and able to withstand the harsh UV rays of the sun. We offer hundreds of fabrics to choose from in various solids, stripes, and textures. You can also add valances, trims, or split panels to create themed pieces for your unique location.
Sizes – Our market umbrellas come in many different sizes. A good rule of thumb is to choose a canopy two feet wider than the diameter of the space (or table) you want to cover. If you have questions about what size would work for you, the American Holtzkraft team offers expert service and would be delighted to create a shade plan that meets your needs.
Quality of Parts – Solid brass fabric-connecting brackets are sealed with clear lacquer, and solid brass grommets and screws are used to attach the fabric. All screws are flush to protect the fabric when the umbrella is closed. We utilize stainless steel hardware to prevent corrosion in marine applications. Aluminum flush pole guards offer protection and minimize swelling in the stand.
Stabilization System –The base of a market umbrella must hold the umbrella firmly in place to protect against high winds. If it is subject to tipping over, it will pose a danger to people around it. Our sturdy and durable stands and bases are the ultimate addition for showcasing your umbrellas.
Wind Tunnel Tested – American Holtzkraft umbrellas have undergone wind tunnel tests performed by a respected university. We are proud to say they achieved an impressive 74.5 mph before any failure. Complete test results for most models are available upon request, along with a video of various tests for your viewing pleasure.
To explore the unsurpassed quality of American Holtzkraft American-made patio umbrellas and the many other products we offer, give us a call at (570) 539-8945.  Our team is eager to help!