American Patio Umbrellas
For American-made patio umbrellas that will last for years and provide full protection from the sun's glare, UV rays, and heat, turn to American Holtzkraft. We offer incredible quality stemming from remarkable workmanship, fine materials, and innovative design. Theme parks, restaurants, pool decks, and other hospitality venues benefit from our custom site furnishings.
Introducing American Holtzkraft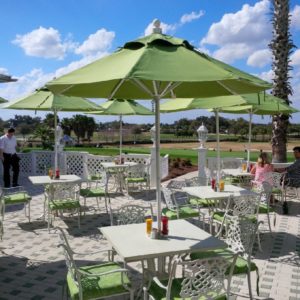 Since 1985, American Holtzkraft has offered appealing and long-lasting market umbrellas and other site furnishings. We combine the expert workmanship of the local Pennsylvania Dutch population with the strength and durability of Northern Ash hardwoods. Our patented designs create incredible market umbrellas.
Our customers return because we're committed to standing behind all sales with expectation surpassing products and service.
American Holtzkraft Market Umbrellas Meet Many Needs
Dining al fresco, relaxing by the pool, and celebrating with friends become more comfortable and cozier when market umbrellas cover the engagement. Our market umbrellas invite guests into an area covered by shade and protection.
The market umbrellas that we produce introduce coverage and protection in a form that weathers the elements well. We produce our umbrellas with materials designed to last even when exposed to saltwater, wind, rain, and other elements.
As you choose American Holtzkraft for site furnishing purchases, contact us to make sure that your custom preferences are met.
The market umbrellas we produce feature poles made of either aluminum or wood. The Northern Ash hardwoods are slow-dried and preserved with a kiln and then stained with multiple layers of finish. You can choose among the shades of teak, natural, mahogany, Stonehenge gray, whitewash, black enamel, or white enamel.
The finish on the pole isn't the only custom option. The market umbrellas we produce are available in multiple styles, including those with a rotating canopy and double vents for superior wind resilience.
By allowing clients to customize their market umbrellas' canopies, we promote branding opportunities as well. Consider the fact that you can choose the color of the canopy as well as the fabric's texture, the umbrella's shape, and even the placement of the logo.
An investment in American Holtzkraft market umbrellas pays dividends. The durability of the site furnishings is met by ease of repair and modification as well. All of our products are made with safety, aesthetics, and quality as the key priorities.
American Holtzkraft market umbrella canopies are available in a wide range of fabrics with various styles and designs to make a particular look without sacrificing quality. The fine materials that we use resist fading, staining, and UV penetration.
Market umbrellas from American Holtzkraft are the best of the best. These umbrellas can withstand high winds without being damaged, as proven in wind tunnel testing. This safety measure comes through double venting and rotating canopies that allow the wind to move through the umbrella. No matter where you need to introduce your set of market umbrellas, we will be able to provide a stand and stabilization system for safe installation.
While designing your company's market umbrellas, consult with the team at American Holtzkraft to make sure that the dimensions, aesthetics, and functionality are right.
The leading producer of American patio umbrellas, American Holtzkraft produces premium quality site furnishings, including market umbrellas, cabanas, daybeds, and accessories. We welcome you to look through our online catalog and place an order either online or by phone at (570) 539-8945.