American Umbrella Companies
The market umbrella for your hospitality venue's outdoor spaces is an often overlooked element of your outdoor design. Of all the companies offering umbrellas and site furnishings, American Holtzkraft is the best.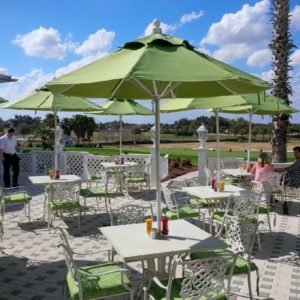 Market umbrellas provide several advantages for hospitality venues like restaurants, theme parks, hotels, country clubs, resorts, etc. These benefits include:
Welcome for patrons
Protection from sun, rain, UV, etc.
Contribution to the mood and aesthetic
Focal feature of the patio or other exterior space
Customization and branding opportunities
Establishment of individual guest areas
Commercial umbrellas provide a way to subtly and explicitly promote your company's brand. We will be pleased to help you design an umbrella that most favorably suits the tone and style of your brand while surpassing your expectations regarding the functionality and longevity of the piece.
An innovative leader in the market umbrella arena, American Holtzkraft is a female-owned business. Safety and quality drive our operations, and we're committed to providing custom opportunities for clients in the market for commercial umbrellas, cabanas, daybeds, or other site furnishings.
Shopping for the Perfect Market Umbrella
Straightforward customization from American Holtzkraft makes achieving all of your goals through your market umbrella purchase more effortless.
Begin with shape. We offer square, decagon, rectangle, and octagon (round) shaped umbrellas to best suit whatever seating area the umbrella should shade.
The size of the canopy should be such that it provides 2 feet of clearance on all sides to make sure that the space is shaded throughout the day.
Next, you'll choose between support from a wooden or an aluminum pole. We use Northern Ash hardwood, the hardest of the hardwoods that grow in the United States, and we preserve the wood further through slow kiln-drying and multiple layers of sealant in the finish of your choice. We offer Teak, Natural, Mahogany, Stonehenge Gray, White Wash, Black Enamel, and White Enamel.
Stainless steel, solid brass, aluminum, all sealed for protection, every component put into an American Holtzkraft market umbrella will stand up against tests of weather and time.
With a model in mind, you can maximize the canvas's benefits. The color, texture, pattern, logo, pleating, and stitching are customizable. This space can be used for branding, either subtly through color and theme or in-your-face with a brightly colored, large logo.
The American Holtzkraft promise is that quality, safety, and customization come first. Our clients' patrons expect the best, which we provide.
The quality of the market umbrellas from American Holtzkraft lasts. Easily maintained, cleaned, and repaired, our umbrellas will resist becoming sun-bleached. In addition to creating site furnishings, we also provide repair and refurbishment services.
Florida clients should call to schedule a SAMs visit to evaluate the Safety, Aesthetics, and Maintenance needs of their exterior designs.
American Holtzkraft is the leader among companies offering exterior furnishings. Innovation and quality are the hallmarks of our creations, and complete satisfaction is the driving force behind the service we provide to our clients. Learn more by perusing our online catalog, dialing (570) 539-8945, or contacting us online.