American Umbrella Manufacturers
Of all the American umbrella manufacturers, American Holtzkraft provides unparalleled craftsmanship, quality, and style. From pool decks to theme parks, restaurants, and more, our clients turn to us for up-scale umbrellas and site furnishings.
Who We Are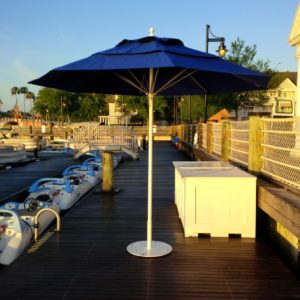 American Holtzkraft, established in 1985, provides durable and stylish market umbrellas by leveraging the craftsmanship of the Pennsylvania Dutch, the strength of local ash hardwoods, and the ingenuity of experts. We're a female-owned family business, and we stand behind every sale.
Create Atmosphere with a Market Umbrella from American Holtzkraft
Outdoor dining, poolside seating, and beach reclining are just a few commercial settings where market umbrellas are essential. Welcome your customers with the invitation of shade and protection created by a market umbrella.
Market umbrellas provide substantial coverage that should withstand the tests of time and exposure. American Holtzkraft operates with a commitment to longevity, craftsmanship, and customization to meet the needs of all commercial customers.
When designers, landscape architects, and executives choose American Holtzkraft for their market umbrella needs, they can rely on us to provide functional and stylish products.
Our umbrellas are available in either wood or aluminum. The strength and quality of ash hardwood are preserved through a kiln and stained in shades that include teak, natural, mahogany, Stonehenge gray, whitewash, black enamel, and white enamel.
Our umbrellas also come in a variety of styles, including a rotating canopy and double vent options. The color, texture, shape, and logo placement are customizable with American Holtzkraft market umbrellas.
Investing in our market umbrellas will pay off in the long term because they will last for many years and can be repaired and modified as necessary. Whether you need a sturdy, wind-resistant beach umbrella or a simpler one for a temporary kiosk, we offer the perfect market umbrella for your needs.
American Holtzkraft is on the same mission we've been on since 1985 –  to provide safe, beautiful, well-made market umbrellas. Our products are made in America and surpass our customers' expectations, each and every time.
Every part of the market umbrellas we design and construct is made with quality and safety in mind.
The canopy of an American Holtzkraft market umbrella can be made from hundreds of fabric options with a range of style specifics to create your desired aesthetic. The material itself is resistant to fading and UV protective.
The premier market umbrella in the industry is the American Holtzkraft umbrella. Our umbrellas resist tipping in high winds because of the robust and durable stabilization systems. Regardless of the site location, we have a system that will accommodate the safe placement of a market umbrella.
The market umbrella experts at American Holtzkraft will be happy to advise your design team regarding the needed size for your space and purpose.
High winds are often the enemy of market umbrellas, but we provide wind resilience. American Holtzkraft employs a patented mechanism that we've developed to reduce stress on the umbrella during high winds, protecting it from destruction.
American Holtzkraft is the leader among market umbrella manufacturers. We also offer site furnishings, cabanas, daybeds, and even repair services. You're invited to browse our online catalog, reach out online, or call (570) 539-8945 to explore our product possibilities.