Best Commercial Patio Umbrella
The best commercial patio umbrella purchased from American Holtzkraft will bring sophistication, comfort, and balance to outdoor spaces. Come to us for a premiere blend of aesthetic wonder and functionality that will last for many years to come.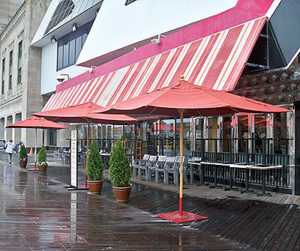 All sorts of businesses in the hospitality sector require commercial umbrellas:
Hotels
Event venues
Restaurants
Beach resorts
Country clubs
From bulk orders of market umbrellas to smaller patio umbrellas, daybeds, cabanas, or other bespoke site furnishings, the wonder of American Holtzkraft extends from materials to design and service.
Begin determining the right size, shape, and number of market umbrellas needed for your outdoor space by beginning with an understanding of the square footage. We will be happy to help with layout and number estimates should you give us a call.
Making shade with a market umbrella should include a thought as to the sun's path through the sky. To achieve shade during all hours of daylight, market umbrellas should have an extra two feet on all sides beyond the area meant to be shaded.
We offer a wide range of sizes, shapes, colors, and designs in American Holtzkraft umbrellas making it possible to appeal to all preferences of appearance and purpose. From adding a logo to choosing a design that complements your space's architectural style, our umbrellas are customizable and remarkable.
Market Umbrellas for All Hospitality Endeavors
The market umbrellas made by American Holtzkraft came on the scene in 1985 and have continued to develop in the time since. With our headquarters in Mount Pleasant Mills, PA, we enjoy several resources, including human and natural advantages. In addition to the presence of Northern Ash hardwoods, we also embrace the remarkable workmanship of the Pennsylvania Dutch population in the region. With the best materials and craftsmanship, along with our ingenuity and patented designs, we make the standard of superior market umbrellas.
American Holtzkraft produces these umbrellas plus a range of canopies, daybeds, and other site furnishings for some of the most stately and elegant businesses in the world. In alignment with our efforts for comprehensive customer satisfaction, we put safety, choice, and follow-through above all other priorities.
Breaking Down the Components of Market Umbrellas from American Holtzkraft
American Holtzkraft produces market umbrellas with either aluminum or wooden poles. We use the choicest of materials and offer umbrellas in either decagon, octagon, rectangle, or square shapes.
Our wooden umbrellas come in Northern Ash hardwood that is kiln-dried and sealed with finishes. We provide teak, natural, mahogany, Stonehenge gray, whitewash, black enamel, and white enamel options for the finish. The wooden poles will not warp or break down over time, nor will the aluminum option.
The various options offered allow our customers to arrange for fully custom market umbrellas for every purpose and space possible within the hospitality arena.
American Holtzkraft umbrellas are incredibly strong and long-lasting. We engineer our umbrellas to permit a full rotation of the canopy combined with dual venting to withstand high winds. In fact, our umbrellas stood up against winds as high as 74.5 mph before being damaged in wind tunnel testing.
The best commercial patio umbrella available hails from American Holtzkraft. When looking for answers to questions or to place an order, you can do so online or by giving us a call at (570) 539-8945.