Best Commercial Umbrellas
The best commercial umbrellas from American Holtzkraft lead the market with aluminum and wooden options, entirely produced in the United States. Long-lasting, customizable, and affordable, our umbrellas will impress your clients, patrons, and guests.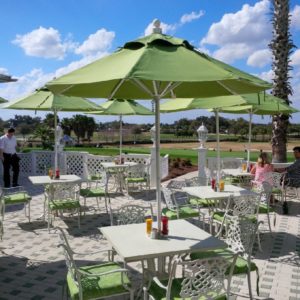 Operating out of Mount Pleasant Mills, PA, American Holtzkraft is woman-owned and responsible for producing the most durable bespoke market umbrellas available. We leverage the fortunate nature of our location by utilizing the locally grown Northern Ash hardwoods and the workmanship of the Pennsylvania Dutch population to provide our customers with great umbrellas, cabanas, daybeds, and other custom site furnishings.
American Holtzkraft custom-builds market umbrellas that are designed to last and impress. Made in the US, our umbrellas are designed to focus on safety for our clients and their customers. We serve a range of hospitality venues from theme parks to resorts, restaurants, water parks, and beyond.
Identifying the Ideal Market Umbrella
Convenient sources of shade and protection during slight rains come from a well-positioned market umbrella. A comfortable place to find comfort and safety is a vital part of the outdoor environment for hospitality venues. Beyond protection, market umbrellas enhance the atmosphere and promote branding.
American Holtzkraft makes it simple to identify the best market umbrella for your venture. Since the size and shape of the canopy define the shade provided, you'll need to identify the area that requires shade first.
Most market umbrellas are considered round, even though they are octagonal, but we also produce rectangles, squares, and decagons. Pairing the area with the right shape is fairly simple. Coordinate the umbrella design with the shape of the site and other features in the outdoor design.
The size of market umbrellas for your spaces should be large enough to extend two feet beyond the area that needs to be shaded on all sides. Make sure that the dimensions and the shape will fully shade the area in question throughout the day. If you need help figuring out the best size, give us a call. Our experienced team members will be happy to help.
The market umbrellas that we create are designed to withstand environmental tests using the six patents we hold. With axis rotation and dual venting, our umbrellas have demonstrated the ability to stand against 74.5 mph winds before experiencing damage.
Customizing your market umbrella is easy with American Holtzkraft. Make the following choices to design your umbrella:
Size
Shape
Color of canopy
Type of stitching and pleating
Embellishments on canopy
Logo placement on canopy
Wooden or aluminum pole
Finish for pole
The stand and stanchion to accommodate placement
Additional Services Provided by American Holtzkraft
The Service Center provided by American Holtzkraft provides refurbishment services for site furnishings when wear begins to show, but budgets won't allow for new purchases. We also offer SAM visits to our Florida customers where experts can provide an on-site visit to verify and remedy any deficiencies in Safety, Aesthetics, or Maintenance (SAM).
The best commercial umbrellas withstand the tests of wind, sun exposure, rain, and passage of time without losing functionality or pleasing aesthetics. American Holtzkraft will produce custom umbrellas to elevate the outdoor spaces of your hotel, restaurant, or other hospitality venue. Dial (570) 539-8945 to explore the benefits of custom site furnishings.