Best Outdoor Patio Umbrellas
Having the best outdoor patio umbrellas like those produced by American Holtzkraft is essential to operations for high-end resorts, hotels, restaurants, and other venues. When you welcome customers, protect them from the harshness of the sun and the discomfort of uncomfortable heat.
American Holtzkraft Quality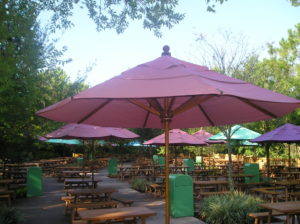 American Holtzkraft, stationed in Mount Pleasant Mills, PA, has been a female-owned business specializing in high-quality market umbrellas since 1985. We provide pieces made with expert workmanship, innovative design, and resources gleaned from the region. In addition to market umbrellas, we offer daybeds, cabanas, accessories, and site furnishings to complete and improve the outdoor areas of our clients' venues.
The occasional umbrellas purchased from big box stores lack the hardiness, structure, and design features that make them stand up against the pressures of frequent use and weather exposure. Whether placed outside of a hotel pool, along the seashore, or as a pop-up kiosk at markets and other venues, an American Holtzkraft market umbrella will offer your business's personalization with precise maintenance demands and user-friendly features.
When customers pull up to your business, first impressions begin immediately. The appearance of an American Holtzkraft market umbrella will convey the quality and value of our products and your service.
A purchase from us is a long-term investment. Our market umbrellas prevent fading, staining, and molding while promoting easy use for longer. Our products are also designed to be repaired on-site without complicated measures.
Florida customers of American Holtzkraft can also rely on us to provide SAMs visits. We can evaluate the Safety, Aesthetics, and Maintenance demands of your business and offer remediation measures.
One of the greatest benefits of choosing American Holtzkraft is the personalization opportunities. In addition to standard options, we can create site furnishings to spec for your aesthetic and functional preferences. Above all, we work toward full customer satisfaction.
Choosing us to build your market umbrellas and other site furnishings should be easy. We use only the finest pieces to design and build our market umbrellas, including aluminum, brass, and stainless steel components, to prevent rusting, warping, and weather damage.
The construction process itself at American Holtzkraft depends on time-honored, expert craftsmanship. Our patented designs stand out in the industry and include a rotating canopy and dual venting to suffer high winds without damage. In addition, wind tunnel testing has proven our umbrellas can experience 74.5 mph winds before experiencing damage.
The canopy that we at American Holtzkraft design for your market umbrella will do more than protect your customers. It will also capture their attention, draw in customers, and speak to your brand. We offer a significant catalog of fabrics in different textures, colors, and designs. We can also personalize the pleating, stitching, and logo design and placement.
American Holtzkraft market umbrellas provide your company with lasting functionality, design appeal, and branding year after year due to the brilliance of the design, the hardiness of the canopy, and the strength of the Northern Ash or aluminum pole supporting the canopy. We also offer stationing methods for all types of environments for maximum functionality and stability.
Businesses that employ outdoor patio umbrellas should choose the best producer, American Holtzkraft. We fulfill all client needs, functionally and aesthetically. Reach out online or via phone at (570) 539-8945 to submit orders or queries.