Best Outdoor Umbrella for Windy Conditions
American Holtzkraft produces the best outdoor umbrella for windy conditions. The umbrellas also improve the status of outdoor hospitality spaces with appearance, comfort, and longevity. Our market umbrellas will meet all of our customers' outdoor furnishing needs with quality and customization.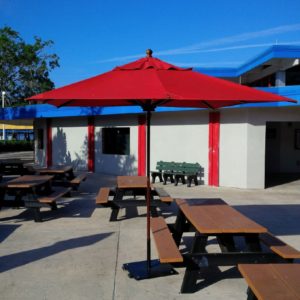 For premium market umbrellas, hospitality venues turn to American Holtzkraft. We began in 1985 as a female-owned small business with a genius notion of making market umbrellas more wind and weather resilient. In addition, we leverage the local natural and human resources of the area near our headquarters in Mount Pleasant Mills, PA.
In this area, we find both the hardest hardwood in North America, the Northern Ash, and the workmanship of the Pennsylvania Dutch community. In addition, the cabanas, daybeds, accessories, market umbrellas, and other site furnishings that we create can be adjusted to meet the precise demands of your venue and your customers.
Market umbrellas must perform when the wind blows and the sun shines. From the hotel pool to a restaurant's outdoor eating spaces, a resort's beachside seating, or another hospitality space, make sure that your market umbrellas meet expectations and impress your patrons.
We encourage clients to consult with the staff here at American Holtzkraft to make sure that your market umbrella design is customized to incorporate preferred features and work with your given space, needed function, and overall ambiance.
The One-of-a-Kind American Holtzkraft Market Umbrella
The American Holtzkraft market umbrella provides safety above all else. Therefore, we don't produce umbrellas that we consider unsafe; an example is the cantilever-style umbrella.
We offer stabilization methods for all types of environments to keep your market umbrellas in place.
Another key feature of American Holtzkraft market umbrellas is the incredible wind resilience of our products. Our market umbrellas withstand winds up to 74.5 mph during wind tunnel testing before sustaining damage. This durability depends on dual venting and a rotating canopy. In addition, six different patents on our products support our catalog's safety.
Our market umbrellas' functionality, strength, and durability come from quality hardware and canopies. The canopy material is also fade-resistant, durable, UV-resistant, and easy to maintain even in a wide range of colors, designs, and textures. You can also designate the specific pleating, stitching, and logo placement you prefer.
The opportunity to personalize the market umbrellas and other site furnishings you order is yet another reason to choose American Holtzkraft. In addition to the canopy design, you can specify the shape and size of the umbrella and choose an aluminum or metal pole and the finish color that protects it. Options include Teak, Natural, Mahogany, Stonehenge Gray, White Wash, Black Enamel, and White Enamel.
American Holtzkraft also offers repair and refurbishment services to help our clients stretch the lifespan of their site furnishings and the dollars in their budgets. But, again, functionality isn't sacrificed for speed or profit.
A SAMs visit for American Holtzkraft's Florida clients will inspect the outdoor spaces' safety, Aesthetics, and Maintenance of the outdoor spaces and provide suggestions as required.
The best outdoor umbrella for windy conditions stands against weather exposure and lasts season after season. American Holtzkraft produces that umbrella. Suit your functional and design demands with a personalized option. Explore all possibilities by browsing our catalog, reaching out online, or calling (570) 539-8945.