Best Outdoor Umbrellas for High Winds
If you wonder who makes the best outdoor umbrellas for high winds, the answer is American Holtzkraft. We customize market umbrellas and other site furnishings according to the client's needs, improving the aesthetic and functional demands of every space.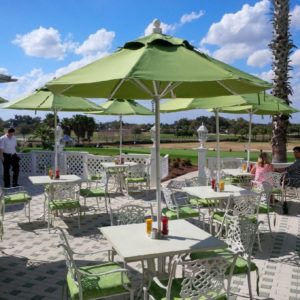 Our team provides clients with help designing site furnishings and supplying them. We work toward complete customer satisfaction, providing comprehensive customization and durable construction. Include your company's logo and choose colors that complement the brand and the surrounding area.
A logo placed on your market umbrellas, along with the perfect choices of color, fabric pleating, stitching, and texture, will cement your company's branding effectively and elegantly. Additionally, the quality of the pieces ensures that customers can rely on maximum performance throughout the seasons and in all sorts of weather conditions.
Through six different patents, the American Holtzkraft umbrella is a wind resilient market umbrella that features dual venting and a rotating canopy that allows it to withstand 74.5 mph winds before suffering damage. This feature is proven in wind tunnel testing.
Our commitment to safety also demands that we no longer produce cantilever umbrellas, and we offer several options for installation on all sorts of grounds and environments.
American Holtzkraft Leads the Market for Commercial Umbrellas
Are you looking for market umbrellas for a beachfront resort, restaurant, hotel, or other hospitality venues? You've probably found quite a few brands to consider, but American Holtzkraft tops them all in terms of reputation, quality, and durability. We surpass all client expectations, and when we, as humans, make mistakes, we do everything required to make it right!
The Functionality and Quality of Market Umbrellas
Blending appearance with functionality produces a whole market umbrella design. High-end market umbrellas like those we produce will provide quality, easy functionality for year after year of service despite exposure to weather and extreme conditions. Our umbrellas are made with aluminum flush pole guards, solid brass, sealed brackets, solid brass grommets and screws, stainless steel hardware, and either aluminum or Northern Ash hardwood poles.
Made in the US, American Holtzkraft market umbrellas are hand-crafted by the Pennsylvania Dutch area craftspeople and the innovative design of our patents. Six separate patents provide the ingenuity that governs our products.
The general composition of a market umbrella includes a pole and an attached canopy. Our designs focus on center-post positions; we no longer produce cantilever options because they're unsafe. The durable canvases that we use protect from UV, sun, and rain exposure while facilitating customization through a choice of color, pattern, texture, pleating, stitching, and logo placement.
We are American Holtzkraft. We specialize in producing and distributing market umbrellas, cabanas, daybeds, and custom site furnishings. Our refurbishment and repair center is also well-outfitted for the successful rejuvenation of pieces, allowing clients to glean every sliver of value from their investment.
Floridian clients can also take advantage of American Holtzkraft SAMs consultations. Our evaluations of Safety, Aesthetic, and Maintenance features will help you maximize the outdoor sections of your venue.
The best outdoor umbrellas for high winds come from American Holtzkraft. Choose our team's dedication to quality and customer service as you plan to supply site furnishings for all outdoor venues. We invite you to browse our catalog or reach out via phone at (570) 539-8945 or online with questions or orders.