Best Patio Market Umbrellas
American Holtzkraft designs and creates the best patio umbrellas for the hospitality industry. Our artistry, materials, and methods are top-of-the-line, and we regularly cater to all sorts of hospitality venues – from luxury hotels and resorts to theme and water parks, restaurants, cruise ships, and more.
Discover American Holtzkraft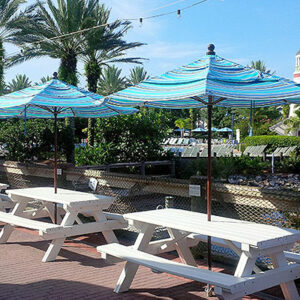 Since 1985, American Holtzkraft has produced the most well-designed and constructed market umbrellas available. Hand-crafted by the Pennsylvania Dutch population near our headquarters in Mount Pleasant Mills, our market umbrellas are made of the finest available materials and according to the most innovative designs.
American Holtzkraft is female-owned and operated as a small business that values every customer and provides complete customer satisfaction.
Market Umbrellas to Set the Tone
Hospitality venues generally want to create an atmosphere of welcome and luxury in their outdoor spaces. Make sure that your guests relish the comfort and ambiance created by well-placed, high-quality market umbrellas. Shade from the heat, a shield from the sun's glare, and protection from UV exposure make market umbrellas essential to your space's outdoor design.
An investment in market umbrellas should last for quite a while. We build pieces that can stand up against the pressures of exposure, so your investment will last season after season.
If you need market umbrellas, cabanas, daybeds, or other customized site furnishings, call on American Holtzkraft for a timely and well-crafted system of solutions. We can provide exclusive rights of use for companies who wish to customize a design that will herald their brand.
American Holtzkraft Market Umbrella Construction
American Holtzkraft's umbrellas are made primarily of wood or aluminum poles.
The wooden market umbrellas generally rely on Northern Ash hardwoods, the hardest of the hardwoods that grow in North America and happen to grow abundantly in our region. We also offer Plantation Grown Teak and Western Cedar hardwood options.
Slow-drying the timber via kiln and applying multiple layers of sealant followed by the finish of your choice strengthens the wood even when exposed to marine environments. The finish shades that we offer include:
Teak
Natural
Mahogany
Stonehenge Gray
Whitewash
Black Enamel
White Enamel.
American Holtzkraft market umbrella models are abundant and diverse. We have six distinct patents, including those for the following models:
Thatch Umbrella
Fan Umbrella
Misting Umbrella
Two-Piece Self-Locking Pole Stand
Rotating Canopy Umbrella
Automatic Opening Umbrella
Combined with a double venting canopy, the rotating canopy creates the most wind-resilient market umbrella. During wind-tunnel testing, this model can handle 74.5 mph winds before experiencing damage due to the decreased stress on the market umbrella from incoming winds.
The canopy of an American Holtzkraft umbrella is customizable. From the shape and size of the piece to its color, texture, pattern, pleating, stitching, and logo placement, every detail matters to us. The fabrics we choose are resistant to fading, staining, UV permeation, tearing, and mold/mildew growth.
The bases and systems of stabilization that we offer make American Holtzkraft market umbrellas ideally suited to any environment.
The best patio market umbrellas available come from American Holtzkraft. Our catalog offers custom site furnishings, cabanas, daybeds, and refurbishment/repair. Place an order by dialing (570) 539-8945 or emailing [email protected].