Best Patio Umbrella For Wind
A picture-perfect setting can quickly become nightmarish when your venue's patio umbrella fails due to wind. American Holtzkraft market umbrellas are the best to withstand conditions marked by high wind. Durability, aesthetics, and functionality are standard with our products.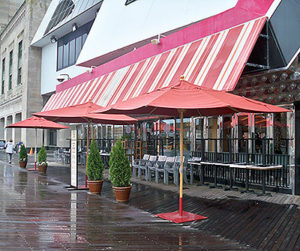 The market umbrellas used on the patios and decks of hotels, restaurants, and other hospitality venues meet multiple needs. They're attention grabbers, atmosphere builders, and comfort providers, but they're also exposed to extreme weather conditions. The custom market umbrellas that we manufacture will last for many years, even if exposed to regular winds.
The market umbrellas we manufacture are custom designed to enhance their impact on the setting of your business and the evolution of your brand. An appropriately designed market umbrella from American Holtzkraft will place the brand in a sophisticated, subtle, but effective setting.
Why American Holtzkraft
American Holtzkraft operates with a mission of producing highly functional and high-quality market umbrellas. The advanced, patented designs combined with the finest materials and expert craftsmanship create furnishings that will last far longer than the competition.
Call American Holtzkraft for market umbrellas, cabanas, daybeds, accessories, or other site furnishings.
Choose the Ideal Market Umbrella for Your Business
The catalog here at American Holtzkraft is wide-ranging and diverse. We offer a variety of shapes, sizes, and compositions. Many features are available, whether you need a small or large, square, rectangle, octagon, or decagon, or a Northern Ash or aluminum pole. In addition to these high-quality materials, we employ solid brass, stainless steel, and aluminum hardware, specially sealed for the ultimate protection.
The expertise of the staff here at American Holtzkraft can be a great asset. We know the questions to ask to define the best market umbrellas for your purposes and brand.
After choosing the type of market umbrella that suits your purposes, you should consider how you can best leverage the canopy to enhance the design and branding. Color, fabric, pleating, stitching, and logo placement are all up for customization.
The umbrella that we provide for your space will elevate the area. The features will anchor the design and provide comfort for guests. As you establish the parameters of your order, make sure to include an additional two feet all around the market umbrella. This space will accommodate the movement of shade as the sun moves throughout the afternoon, keeping patrons from suffering glare, UV rays, and heat.
Even in high wind conditions, our market umbrellas will stand tall. The patented designs, including dual venting and rotating canopy, promote this durability. This model has proven to withstand 74.5 mph winds during wind tunnel testing.
Low-maintenance and highly durable, American Holtzkraft market umbrellas resist fading, staining, and mildew growth. We offer refurbishment and repair services to help bring new life to aging site furnishings.
The clients in Florida can register for a SAM visit with Safety, Aesthetics, and Maintenance checks to highlight deficiencies and provide feedback and suggestions.
Choose the best patio umbrella for withstanding wind by shopping with American Holtzkraft. We bring absolute quality and functionality along with the potential for personalization. Discover more about our process and products by calling (570) 539-8945 to speak with the experts on staff or study the models and features offered in our online catalog.