Best Patio Umbrellas for High Wind Conditions
When high wind conditions threaten the condition of your site furnishings, turn to American Holtzkraft for the best patio umbrellas on the market. With innovative designs, quality production teams, and the finest available materials, we beat the competition in terms of visual appeal, personalization opportunities, functionality, and durability – even during high winds.
Discover American Holtzkraft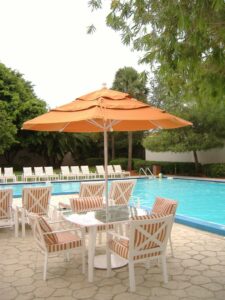 American Holtzkraft calls Mount Pleasant Mills, PA, homes, as we have since our establishment in 1985. We offer lasting and stylish site furnishings – including market umbrellas, daybeds, cabanas, and other custom pieces – to hospitality venues around the globe. The three legs of our success include:
The most robust materials, made even stronger
Ingenious design for strength and functionality
Expert hand-craftsmanship by the area's Pennsylvania Dutch population.
American Holtzkraft is a small, female-owned family business, and we owe our success to producing quality products and offering comprehensive customer support. Mistakes may happen, but they allow us to improve and find ways to surpass client expectations.
We routinely provide site furnishings to all sorts of hospitality businesses:
Hotels
Resorts
Cruise lines
Country clubs
Restaurants
Water parks
Theme parks
Other event spaces.
Patio umbrellas contribute shade and protection for patrons in hospitality spaces. Still, in areas where winds are high and frequent, they can become damaged quickly, costing a fortune to replace repeatedly. American Holtzkraft produces the most wind-resilient market umbrellas available; two features of this model reduce the pressure that winds place on the umbrellas: dual venting and a fully rotating canopy.
During wind tunnel testing, this model handles winds up to 74.5 mph before any damage occurs, and we have the video evidence to prove it.
Commercial patio umbrellas are a necessary element for hospitality venues, but you should consider a few critical factors when making a purchase:
Maneuverability – Whether you need permanent or temporary stations, American Holtzkraft provides a wide range of stanchion and base systems for all environments.
Size – Small or large, shade any sized setting with a well-made American Holtzkraft market umbrella. Determine the appropriate size by measuring the space's width and adding two feet.
Shape – The shape of a market umbrella is quite important. Mirror architectural features and other furnishings.
Materials – Aluminum or wooden poles, high-quality textiles, solid brass hardware, and measures to make these strong pieces even stronger make American Holtzkraft umbrellas the choice of those who understand the difference between low-quality and high-quality pieces.
The suitable market umbrellas also add to the atmosphere you want to create for outdoor spaces, just as the wrong choices detract from the overall design. It would help if you had site furnishings that parallel the space's style, colors, climate, and other features.
American Holtzkraft market umbrellas are made with safety, quality, and personalization as top priorities. Allow our team to help as you define the ideal set of market umbrellas to meet your business's functional and aesthetic needs.
We have six patents for our products, including the thatched umbrella, fan umbrella, misting umbrella, two-piece self-locking pole stand, rotating canopy umbrella, and automatic opening umbrella.
American Holtzkraft offers the best patio umbrellas for high wind conditions. Our umbrellas, daybeds, cabanas, and other site furnishings lead the industry, and we offer repair and refurbishment services. If you're interested in any of our products or services, please call (570) 539-8945 or email [email protected] to speak with our team.