Best Patio Umbrellas
If you're looking for the best patio umbrellas for your guests and patrons, choose American Holtzkraft. We provide resorts, hotels, theme parks, cruise ships, and other hospitality venues with finely made site furnishings. Our products combine the best quality materials with advanced innovations and world-class workmanship.
Commercial Patio Umbrellas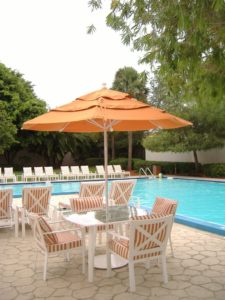 American Holtzkraft operates out of Mount Pleasant Mills, PA, as a woman-owned business for the past 30+ years. Our innovative designs, the plentiful Northern Ash hardwoods in the area, and the local Pennsylvania Dutch population's skills come together to produce the absolute best market umbrellas available. We also produce cabanas, daybeds, accessories, and other custom site furnishings while providing SAMs (Safety, Aesthetics, and Maintenance) visits for our Florida customers and repair services for all others.
The products we produce are made in America with safety as the priority. Our clients include resorts, restaurants, major theme parks, and many other hospitality businesses.
Features of American Holtzkraft Standard Wooden Market Umbrellas
We produce our umbrellas with the hardest hardwood of the US, the Northern Ash. Built to last, our market umbrellas feature high-end canopies made of durable textiles, multi-laminated hubs and finials, and solid brass hardware.
The most popular of our market umbrella designs is highly wind-resilient. In fact, it's the most wind resilient market umbrella available, as proven in wind-tunnel testing. The umbrella was able to withstand winds up to 74.5 mph before suffering any damage. This umbrella rotates around the steel-reinforced pole and has dual canopy venting that allows the wind to blow through the canopy without obstruction. All of these critical features are patented; we hold seven different patents.
Additional features of our market umbrellas include the following:
Durable Varnish

Several coats of marine varnish for enhanced salt, weather, and water protection
Filters out the sun's UV rays
VOC compliant to meet clean air standards
Clean air formula

Wood Stains

Seals the wood, protects against moisture, and adds color
Semi-transparent enhances wood grain and durability
Available in Plantation-Grown Teak and Western Cedar

Standard Aluminum Umbrella

Strong and durable, ideal for poolside use
Solid aluminum hub with sleek design
Ribs are fastened to the hub with stainless steel pins and large screws, facilitating repair on-site
Solid aluminum finial
Marine-grade aluminum pole with strength and durability
Rotating canopy reduces stress on the pole and hubs
Brushed aluminum finish
Stainless steel hardware and neoprene spacers to protect moving parts from corrosion
Double-stitched, reinforced pockets connect the canopy to the ribs of the frame for failure-free use
No matter the environment or setting where you plan to install your order of market umbrellas, we offer the stand and installation systems to see that they are safely applied. Safety is our priority, always. That's why we no longer deal in unsafe cantilever umbrellas.
We offer a wide range of styles of market umbrellas including lighted ones and misting ones. Whether you need to set a romantic mood with subtle LED lighting built into the umbrella or misting meant to cool guests on a hot day, look for market umbrellas from American Holtzkraft for the solution.
The best patio umbrellas for your hospitality venture come from American Holtzkraft. We urge you to check out our online catalog to see for yourself the potential site furnishings that we can create for your business. Reach out by calling (570) 539-8945 or online with questions or orders.