Best Windproof Umbrellas for Restaurants & Hotels
American Holtzkraft offers the best windproof umbrellas for restaurants & hotels to use in outdoor settings. Market umbrellas, daybeds, cabanas, and other custom site furnishings that we make are built to impress and built to last.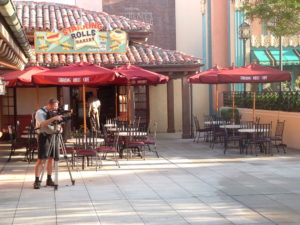 The ultimate in site furnishings, our market umbrellas, are made of the best possible materials, by expert craftsmen, and according to innovation-driven plans. Our hospitality clients' endeavors are made possible by the dedication to quality that goes into our products.
We serve a wide range of hospitality ventures:
Hotels

Restaurants

Theme parks

Water parks

Country clubs

Cruise lines

Resorts

Kiosk and pop-up shops

Coffee shops

Event spaces

More
First established in 1985, American Holtzkraft is a female-owned small business born of innovation. Customer service drives every transaction, and we make sure that all of our clients are satisfied with the products and services that we provide.
Commercial Umbrellas Set the Stage
Outdoor settings of hospitality venues require market umbrellas and other site furnishings. Restaurants, poolsides, and theme parks all require that type of shade that well-built market umbrellas offer, and the pieces provide the aesthetic anchor needed for each setting.
American Holtzkraft market umbrellas don't require extensive maintenance for care, and they're so well-built that they welcome refurbishment. We provide refurbishment services to our own pieces as well as those of our competitors. If you have pieces that are beginning to show age, reach out to us for refinish, repair, and refurbishment services. We are dedicated to our clients and provide satisfaction through personalization, aesthetic appeal, and functional pieces.
Our staff provides collaborative planning with business owners or their designees to plan the furnishings or the logos that they want screen printed on canvases. We'll even provide exclusive rights of use if companies design their own style of market umbrella.
We supply both wooden and aluminum market umbrellas. Northern Ash hardwoods are the dominant timber variety that we use. It is the strongest wood grown in North America, known for the production of baseball bats. We also offer Western Cedar and Plantation-Grown Teak if you prefer a different wood. All of our poles are processed through slow drying in a kiln, and we then apply sealant and finish for resistance to exposure and wear.
American Holtzkraft clients can choose customizations ranging from size to shape, color, texture, and branding.
Looking for windproof umbrellas for your establishment?
You've found the right source.
We provide the most wind-resilient market umbrella on the market. The features that allow our umbrellas to resist damage include the ability to rotate around the axis as well as dual venting of the canopy. These features reduce the wind's strength against the umbrella.
The customizations possible for your American Holtzkraft market umbrellas allow you to set the tone for your guests, cement your brand, and unify the design. Every model that we offer features designs and materials meant to resist fading, staining, wear, mold/mildew, UV permeation, and damage related to exposure.
American Holtzkraft is the leading provider of market umbrellas and other site furnishings. As such, we focus our efforts on safety above all. Every model is made with stability in mind, and we offer a plethora of base options to keep them in place and secure.
For the best windproof umbrellas for restaurants & hotels, reach out to American Holtzkraft. We welcome you to browse our online catalog and call to speak with our team members at (570) 539-8945.