Big Pool Umbrellas for Hotels & Resorts
Are you looking for big pool umbrellas worthy of the guests at the most elite hotels & resorts? American Holtzkraft designs, crafts, and distributes world-class umbrellas, cabanas, daybeds, and other site furnishings, created to meet the needs of specific hospitality ventures. With our products, your poolside will be the highlight of your guests' experience.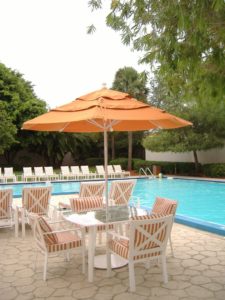 The materials, designs, and processes we use at American Holtzkraft ensure we produce the best results. Our market umbrellas offer safety, protection from light precipitation and UV rays, and comfort from the day's heat. The design also provides the ideal medium for branding – subtle or explicit. 
American Holtzkraft furnishings are ideal for all types of ventures, including:
Resorts

Hotels

Country clubs

Restaurants

Cruise ships

Theme parks

Water parks

Event spaces

Pop-up kiosks
The market umbrellas you select can establish settings within a larger space while unifying the overall design.
Introduction to American Holtzkraft
Mount Pleasant Mills, PA, is our home. Our commitment to producing world-class site furnishings has benefitted a broad range of hospitality venues nationwide for nearly four decades. As a small female-owned and driven business, we rely on ingenuity, quality materials, and hand-crafted skill to produce results that meet all of our customers' needs. 
The Importance of a Well-Crafted Market Umbrella Design
The ideal market umbrella will depend on your venue's needs. Do you need a stationary, permanent set of units, or do you need mobile designs? We offer a wide range of designs, all substantial and functional. Each model we offer is safe, and we provide lighting options, wind resilience, and a wide range of shapes and sizes. 
We put fine, strong materials into every product that we make. From stainless steel to aluminum, solid brass, and layers of finish, the smallest of details are carefully chosen for safety and durability. We devote ourselves to quality, from the finial to the base, to ensure that every product we provide functions appropriately and lasts season after season.  
The maintenance demands of site furnishings are a critical factor in purchase decisions. The canopies we design resist fading, staining, molding, and tearing, and the poles withstand warping and breaking. We also create models designed for easy repair in-field.
Customize your American Holtzkraft market umbrellas to fit within the setting of your hotel's pool area. Select the features that will make your umbrella stand out; you can even have exclusive rights of use by your company:
Wood or aluminum pole

Color of the finish

Shape

Size

Pattern

Pleating

Stitching

Logo design and placement

Base and stand
We depend on innovations of design crafted by skilled artisans. Our wind-resilient market umbrellas have proven to stand up to 74.5 mph winds before experiencing any damage. Request video evidence to see these results during testing.
When your market umbrellas do begin to look aged, call on American Holtzkraft for refurbishment. We have a dedicated refurbishment center to inspect, repair, and refurbish site furnishings of our own design and those of our competitors. 
Hotels & resorts in need of big pool umbrellas for their lounge spaces should consider the offerings of American Holtzkraft. Check out our online catalog to discover all that our products offer. Call us at (570) 539-8945 or email [email protected] to place an order.