Branded Hotel Pool Umbrellas
Branded hotel pool umbrellas are often a feature in ads, and they're definitely one of the first things your guests notice. American Holtzkraft provides custom pieces that will meet your business's visual and functional needs.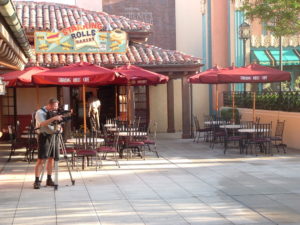 Hotel umbrellas meet an array of needs including:
Draw the eye to the community areas around the pool or outside of an event space

Anchor and unify the outdoor design

Offer shade and protection for guests

Cement branding concepts through custom design
American Holtzkraft hotel market umbrellas provide a longstanding, well-built way to meet guests' needs while enhancing the area's branding and ambiance. Completely customize the design of your market umbrella with a call to our team; we'll help get your market umbrellas' visual and functional aspects perfectly in line with your needs.
Introducing American Holtzkraft
American Holtzkraft began operations in 1985, born of insight into design measures to improve the use and life of market umbrellas. We're a female-owned small business that leverages the following:
Quality materials

Proven workmanship

Design innovations. 
This winning combination results in a catalog of great market umbrellas, cabanas, daybeds, and other site furnishings and the ability to custom design pieces according to your specifications. 
Choosing the Best Patio Umbrella for a Hotel's Space
The plethora of models available from American Holtzkraft provides hotels with plenty of options. In terms of shape, we offer square, rectangle, octagon (round), and decagon market umbrellas in all sorts of sizes, and you can choose between aluminum or wooden poles in various finishes. Figuring out which style is best might be difficult.
These fine materials, combined with stainless steel and solid brass components, mean that American Holtzkraft market umbrellas withstand the seasons as they come and go.
The team here at American Holtzkraft will be happy to help as you choose and design the ideal market umbrella for your hotel. 
Remember to maximize the benefit of the canvas design. The color, pattern, pleating, stitching, valances, and logo design and placement can come together to fulfill branding expectations for your hotel. 
The Quality and Visual Appeal of a Market Umbrella
Ensure your guests form the impression you desire when they arrive at your hotel. The pool patio's aesthetic will make a significant impact on their impressions. Market umbrellas from American Holtzkraft offer the elegance, quality, and custom potential to secure the perfect environment for your hotel. 
The size that you choose is significant. To ensure that the area is shaded throughout the day, add two additional feet to each side to account for the movement of the shade as the day progresses. The shape should also mirror the shape of the area you'd like to shade. 
The canopies we apply to our market umbrellas and other site furnishings are resistant to fading and mildew growth and easy to clean and maintain. 
We also provide Florida clients with access to scheduled SAMs visits wherein our experts will arrive and evaluate your venue's safety, Aesthetic, and Maintenance features.
Since the beginning, we have provided quality and value. Branded hotel pool umbrellas from American Holtzkraft are the best option for welcoming and shading guests. Check out our products for yourself through our online catalog, or reach out to our staff by calling (570) 539-8945.