Branded Market Umbrellas
For branded market umbrellas that will secure your company's identity in customers' minds, choose American Holtzkraft. Our site furnishings – market umbrellas, daybeds, cabanas, and more – suit your company's aesthetic and functional demands.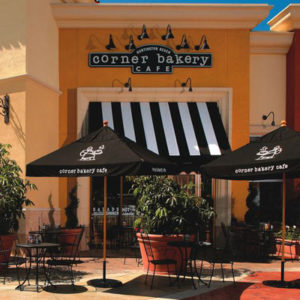 The clients we serve stretch across the hospitality venue spectrum. Entities include hotels, event spaces, restaurants, country clubs, beach resorts, etc. American Holtzkraft produces customized pieces to complement your space's design, purpose, and workflow.
To begin designing your outdoor space, consider the size and needs of the business's space and purpose. Our market umbrellas are available in many sizes, shapes, and designs. The venue's square footage will be the limiting factor of this design. This design process can be particularly troublesome, and you need to get it right. Why not call our team for assistance? We're pretty familiar with the questions to answer for an ideal result.
Market umbrellas create shade, but for the provision of shade throughout the day, the canopy should include two feet of additional coverage on all sides. We provide round (octagon), decagon, square, and rectangle canopy options in a wide breadth of size, color, and design choices. You can also embellish the canopy with your company's logo to draw in customers and solidify branding. Get this branding opportunity perfect with the help of our expert staff.
American Holtzkraft, founded in 1985, operates out of Mount Pleasant Mills, PA. We produce site furnishings with innovative designs, quality materials, and expert craftsmanship. The Northern Ash hardwoods in the area are the hardest of the hardwoods in the country, and the local Pennsylvania Dutch population has the skill and artistry required to produce works of art in functional form.
The umbrellas, daybeds, and cabanas are also included in our catalog. Custom site furnishings for the particular needs of your business are also available here at American Holtzkraft. Above all comes safety. We provide several surefire installation measures for secure and safe enjoyment, and we prohibit the production of cantilever umbrellas for safety reasons.
After safety, American Holtzkraft prioritizes customization and customer satisfaction.
Market Umbrella Design and Components
Market umbrellas from American Holtzkraft can be constructed with either aluminum or Northern Ash wooden poles. The fine materials that put together the market umbrella and create the canopy facilitate many shapes and sizes of umbrella.
The wooden pole umbrellas have an aluminum pole flush guard. The Northern Ash hardwood pole is slow-dried and sealed with multiple layers of sealant in teak, natural, mahogany, and Stonehenge gray whitewash, black enamel, and white enamel. These poles withstand exposure and time without breaking or warping. Aluminum pole options are similarly strong and long-lasting.
The market umbrella customization options that we offer to our customers will meet the needs of a wide range of hospitality venues. No matter the choices made, the umbrella will last year after year.
One particular element that makes American Holtzkraft market umbrellas unique is the wind resistance of the pieces. These market umbrellas feature a rotating canopy and dual venting to stand up against strong winds. During wind tunnel testing, this style of market umbrella received no damage before being exposed to 74.5 mph winds.
Source the branded market umbrellas for your outdoor venue from American Holtzkraft. Check out our catalog, call (570) 539-8945, or contact us online to learn more about our products and services.