Branded Outdoor Umbrellas
Outfitting your outdoor venue spaces with branded umbrellas is a subtle solution for pulling together a marketing campaign, drawing customers into the venue, and unifying the design. American Holtzkraft produces high-quality market umbrellas that can be fully customized to suit your preferences regarding appearance and functionality.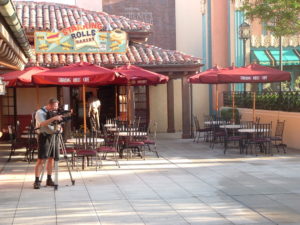 A market umbrella offers shade from the sun's glare, heat, and UV rays. These pieces pull together the design features of the space, serve as a focal feature, and elevate the brand through a range of customization options.
The High-Quality of American Holtzkraft Site Furnishings
American Holtzkraft is the leading provider of market umbrellas, cabanas, daybeds, and other site furnishings. Since 1985, we have served the site furnishing market from our headquarters in Mount Pleasant Mills, PA.
The materials used to create market umbrellas come from the same region as our headquarters. Northern Ash hardwoods grow abundantly, and the Pennsylvania Dutch craftsmanship is remarkable. Along with our innovative designs, we create lasting, well-designed custom umbrellas.
The American Holtzkraft catalog features an array of models of umbrellas and other site furnishings. For custom designs, reach out to our team.
Beyond producing site furnishings, American Holtzkraft offers comprehensive refurbishment and repair at our service center. Our clients can extend their investments with complete product renewal. A SAM visit for Florida clients will review and remediate the Safety, Aesthetics, and Maintenance needs of venues.
Designing and Branding Market Umbrellas
Various options of dimensions, shapes, styles, colors, textures, fabric pleating, stitching, pole material, and more allow us to facilitate custom designs. If you or your representative also require design assistance, rely on our team for guidance. We have both experience and expertise.
The market umbrellas we produce don't fade, tear, stain, or fall; instead, the canvas and other materials are chosen to last.
The market umbrellas from American Holtzkraft are well-designed and constructed. The materials that we choose also include solid brass hardware, multi-laminated hubs and finials, and stainless steel and aluminum components. You will not find a market umbrella with higher quality materials or construction.
Wind can be a cause for concern when it comes to market umbrellas. However, instead of being a reason for rushing to batten down the hatches, our market umbrellas will last even in the wind. During wind tunnel testing, American Holtzkraft umbrellas experience winds up to 74.5 mph before being damaged. This wind resilience is primarily due to dual venting and a rotating canopy; both features are patented designs of American Holtzkraft.
The Market Umbrella Pole
American Holtzkraft market umbrellas can also be custom designed as it relates to the poles! They can be aluminum or Northern Ash hardwoods with an application of marine-grade varnish. In addition, slow-dried and sealed wooden poles can be finished in the shade of your choice for another custom product.
Long-lasting market umbrellas can also come with aluminum as a primary component. We create pieces that are easy to repair on-site without lugging various tools to the area.
Customer support from American Holtzkraft is comprehensive. We support every sale and pledge to make our customers fully satisfied with our products and service.
Incorporate branded outdoor umbrellas from American Holtzkraft into your hospitality spaces to add aesthetic value and marketing surety. We fulfill several needs at once with our market umbrellas, and you should browse our online catalog, reach out online, or call (570) 539-8945 to learn more about these provisions.