Commercial Aluminum Umbrellas
Invest in the most durable of commercial aluminum umbrellas from American Holtzkraft. We proudly offer hand-crafted market umbrellas, cabanas, daybeds, and custom pieces for hospitality venues worldwide. Our methods provide total satisfaction in terms of customer service and long-lasting site furnishings.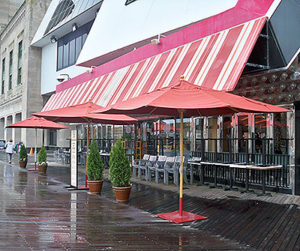 Commercial umbrellas serve many functions – aesthetic and functional. Visually, umbrellas call visitors to the area, anchor the design, and unify the overall design scheme. These visual demands can be well met with personalized results from American Holtzkraft. We even offer exclusivity rights if you choose your company's very own unique design with custom colors, designs, logo placement, pleating, and valances.
These customizations provide hospitality venues with excellent opportunities for branding and cementing an overall marketing campaign. The quality of our market umbrellas leads guests to connect the positive impression of these pieces with the hospitality venue whose spaces they grace.
The American Holtzkraft Choice
When considering a producer of market umbrellas, consider American Holtzkraft. We are a female-owned small business, operating since 1985 and headquartered in Mount Pleasant Mills, PA. Born of innovation, we balance quality materials, genius design, and expert craftsmanship to produce our products, and then we back up our transactions with complete dedication to customer satisfaction.
The Durability of Aluminum Umbrellas
Aluminum umbrellas stand up against even the harshest of environmental conditions. These market umbrellas are strong and modern, with a solid aluminum hub. Stainless steel pins and large screws connect the ribs to the hub, making onsite repairs easy.
We also offer a fully rotating canopy that pairs with a dual-vented canopy for the most wind-resilient market umbrella you can buy. This design minimizes stress in windy conditions since the umbrella allows the wind to flow rather than fight against it. In wind-tunnel testing, this model withstood 74.5 mph winds before experiencing any damage.
The standard features of an aluminum American Holtzkraft market umbrella include the following:
Solid aluminum finial
Marine-grade, tempered aluminum pole
Rotating canopy
Brushed aluminum finish (powder coat finish available for an upcharge)
Stainless steel hardware and neoprene spacers (maximal rust resistance and ease of use)
Double-stitched, reinforced pockets
Some features are optional for our aluminum market umbrellas:
Double venting for airflow through the canopy
Unbreakable pultrusion ribs
Powder coat finish
You might also consider an aluminum market umbrella with an auto-opening feature. This style is particularly convenient when operating a kiosk, food cart, or other temporary, mobile endeavor.
The auto-opening design uses a dual-pole system with a compression device that causes the umbrella to open.
We also provide a range of wooden umbrellas, made primarily from the hardest of the hardwoods that grow in North America, Northern Ash.
The canopies that provide the shade of American Holtzkraft market umbrellas are resistant to staining, fading, mildewing, molding, tearing and tipping.
American Holtzkraft Refurbishment Services
Our clients benefit from our services to refurbish and repair existing site furnishings, both our own brand and those of our competition. We also offer SAM services for Florida venues, wherein we inspect the site for Safety, Aesthetics, and Maintenance features.
When searching for the best commercial aluminum umbrellas, turn to American Holtzkraft. We provide variety, affordability, and durability to all our site furnishings. Check out our online catalog, and email or call us at [email protected] or (570) 539-8945, respectively.