Commercial Beach Cabanas for Hotels
American Holtzkraft is the foremost provider of commercial beach cabanas for hotels and other hospitality venues in the United States. We offer hand-crafted custom site furnishings, including market umbrellas, cabanas, daybeds, and more. For the quality of function and visual appeal, count on American Holtzkraft to deliver.
Why American Holtzkraft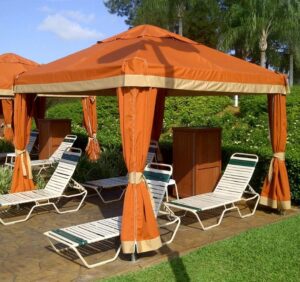 A female-owned small business established in 1985, American Holtzkraft operates out of Mount Pleasant Mills, PA. We specialize in the design and production of hand-crafted site furnishings. We use the finest possible materials, including aluminum, Northern Ash hardwoods, solid brass components, marine-grade textiles, and more. 
We hold six patents, offer the market's most wind-resilient patio umbrella, and have the record for the world's largest market umbrella.
American Holtzkraft focuses on serving the hospitality sector. Made entirely in the US, our products furnish the exteriors of theme parks and water parks, resorts, hotels, restaurants, country clubs, cruise ships, and more with market umbrellas, cabanas, daybeds, and other custom site furnishings.
Our commitment to quality is without comparison, and we offer 100% customer satisfaction, making errors right as soon as possible and carefully following made-to-order requests.
American Holtzkraft refurbishes our products as well as those of our competition. In addition to site furnishing production, we can also provide related services. We have a dedicated refurbishment center, where we can provide used site furnishings with a second life. 
SAM visits are a service that we offer to our Florida clients. One of our experts will visit your venue and evaluate the space's Safety, Aesthetic, and Maintenance aspects, providing suggestions for maintenance and improvement. 
Beach Cabanas from American Holtzkraft
Every pool and spa needs a beach cabana, or five, to set the stage for guests' luxury and relaxation. A cabana offers a sense of privacy while promoting relaxation in the sun. 
Details of the American Holtzkraft Beach Cabana
Model #760 4'x8' Beach Cabana
Marine-grade aluminum frame

Adjustable to the greatest comfort

Covered with the fabric used on boats and awnings

Design perfection for flawless functioning

Features a side pocket for stashing personal items within reach but out of the way

Coordinate the color to complement your American Holtzkraft market umbrellas

Quick-dry foam cushions

Marine-grade Sunbrella fabric

Wind vents in the back

Attachable to an American Holtzkraft daybed or double-chaise lounger
Details of the American Holtzkraft Tent Cabanas
Model #241 7'x7' Tent Cabana
Model #244 10'x10' Tent Cabana
Aluminum frame

Easy assembly

All fabric qualities available
Model #741 7'x7' Tent Cabana
Model #744 10'x10' Tent Cabana
Wood frame

Easy assembly

Easy, quick collapse for inclement weather conditions

All fabrics available
Tent cabanas provide a place of privacy while at the beach or pool. Make a quick change, grab a post-swim nap, or have a private conversation without prying eyes. When friends secure a cabana, they have an area to meet up throughout the day without having to fight over available beach chairs or loungers. These cabanas are also an indicator of special status.
The durability of American Holtzkraft commercial beach cabanas is as strong as it is for the rest of our products, so hotels and other hospitality businesses are well served by investing in our products for their exteriors. Bring us questions or orders by calling the team at (570) 539-8945 or emailing [email protected].