Commercial Cafe Umbrellas
Market your cafe with custom-designed commercial umbrellas while providing your patrons with comfort and UV protection. American Holtzkraft offers these furnishings with impressive quality and price points.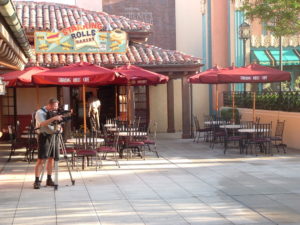 American Holtzkraft is a female-owned small business. We have produced outstanding site furnishings since our founding in 1985. The innovative patented designs that we employ and the fine materials and world-class craftsmanship allow us to offer products that are in a class all their own. In addition to the market umbrellas for which we're well known, we also produce cabanas, daybeds, accessories, and custom site furnishings.
Upon arrival at your cafe, patrons will take note of the exterior, mainly the market umbrellas. Quality, pleasing pieces will draw in customers with a promise of quality and concern. The upkeep and appearance of your venue impart a sense of what to expect once seated.
Functionally, the market umbrellas of your cafe will shade your customers and keep them comfortably protected from the sun's glare, UV rays, and unexpected precipitation.
Our market umbrellas are abundant in the hospitality venue but are a requirement of sidewalk cafes. From the boardwalk to the middle of the city, choose our umbrellas to create precise impressions with an investment that will last for many years to come.
The Markers of Quality in Market Umbrellas
The level of quality found with market umbrellas from American Holtzkraft is heads above competing products. From the bases used for stabilization in all sorts of theaters to customized canopies and more, the features of our market umbrellas blend non-negotiable quality and collaborative customization.
As patrons dine, the last thing on your mind should be the integrity of the market umbrella. Focus on providing them with a memorable experience and delightful meal as the strong frame and canopy perform as expected.
Even in strong winds, our market umbrellas perform. The dual venting and rotating canopy allow our pieces to withstand damage up to 74.5 mph, as proven in wind tunnel testing.
Our market umbrellas function as they should without issues with opening or closing, and we provide features that allow for easy repair in the field when necessary.
The poles are similarly strong, either with the strength of aluminum or Northern Ash, the hardest hardwood found in North America. We use a slow-drying process and multiple layers of finish for further durability and weather preservation.
Atop this pole is a durable, custom-designed canopy. The material is long-lasting, fade-resistant, easily maintained, and UV protective. Easy maintenance and resistance to mildew are also key features of our canopies.
Our fabrics are available in several colors and designs, and we can add your logo and apply your choice of pleating or stitching design.
Purchase a supply of American Holtzkraft market umbrellas in the shape and size you need for a surefire-positive experience. Our staff is always happy to help with design questions, and we also offer refurbishment and repair services. We encourage our Florida clients to schedule a SAM visit for an evaluation of Safety, Aesthetic, or Maintenance needs.
If you own a cafe and need commercial umbrellas, American Holtzkraft should be your first call. We encourage you to browse our online catalog and give a call to our team for collaborative input on the perfect furnishings for your business: (570) 539-8945.