Commercial Deck Umbrellas
Design the perfect market umbrellas for your commercial venue's deck with the helpful efforts of the team at American Holtzkraft. We create top-of-the-line umbrellas, cabanas, daybeds, and other site furnishings according to the needs and preferences of our clients.
Why Choose American Holtzkraft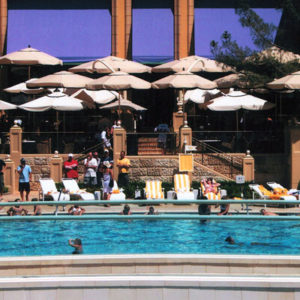 If your hospitality venue has an outdoor space, you're in the market for commercial umbrellas, and American Holtzkraft is the provider of choice. Your due diligence will confirm that we offer undoubted quality, a positive, hard-earned reputation, and many years of experience. We hold six different patents on our designs, and many occurrences of recognition for the excellence of those designs also demonstrate the quality of our work.
An American Holtzkraft market umbrella will function appropriately and resist damage for longer and in harsher circumstances than our competitors. We use the highest quality components, including stainless steel hardware; aluminum flush pole guards; solid brass brackets, grommets, screws; and aluminum or Northern Ash hardwood poles.
American Holtzkraft products are produced in the United States. Our headquarters in Pennsylvania allows us to leverage the local tradition and expertise of the Pennsylvania Dutch as well as the abundance of Northern Ash hardwoods. We prioritize safety, declining to produce products that might jeopardize your establishment's patrons. Other priorities we follow include high-quality functionality, appearance, and customization opportunities.
Designing the ideal umbrella for your business's brand and atmosphere will become a straightforward process with the assistance of our team. The canopy of the umbrella, cabana, or daybed can be any color or design imaginable; we can even screenprint a logo of your design. The fabrics are long-lasting, non-fading, stain-resistant, and resistant to mold and mildew growth.
The canopy can be further customized with pleating and stitching designs.
These canopy customizations are only the beginning!
We strive to provide complete satisfaction for our clients, creating themed market umbrellas unique to your business's style and purpose.
Before our consultation, let's review the jargon to create your company's market umbrellas.
The canopy and the pole are reasonably self-explanatory. As discussed, the canopy is the fabric covering that is held up by the pole. It provides the shade and UV protection your patrons expect. The poles, wooden or aluminum, give the market umbrella strong support for a variety of environments.
All of our market umbrellas use center posts. We do not offer cantilever umbrellas because we find them to be unsafe.
Other parts of market umbrellas include the ribs, hubs, finial, and winch mechanism. The ribs hold the canopy open while the hubs support them, moving to open or close the canopy. The winch mechanism lifts these hubs for operation. The canopy itself is connected to the pole via the finial.
We manufacture square, rectangle, decagon, and octagon (round) market umbrellas in various sizes. When you're ordering, be sure to calculate an extra two feet on all sides to maintain sufficient shade when the sun moves from East to West.
In addition to site furnishings, call on American Holtzkraft for upkeep and repair of your commercial umbrellas. We'll be happy to help provide your site furnishings with a makeover or renewal.
When your hotel, resort, restaurant, or other venue's deck requires commercial umbrellas, dial (570) 539-8945 to speak with the team at American Holtzkraft to design your company's perfect site furnishings.