Commercial Grade Cabanas
Hospitality venues require site furnishings for their patrons' relaxation, protection, and comfort. American Holtzkraft provides commercial-grade cabanas in styles that shade daybeds at the pool or beach and large, tent styles to shade a significant area for outdoor events.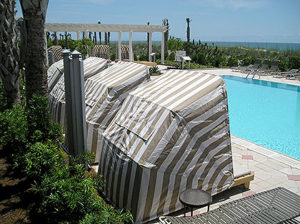 Since our founding in 1985, American Holtzkraft has proven our commitment to quality and service. We are a female-owned business with headquarters in Mount Pleasant Mills, PA, where we can leverage the abundant Northern Ash hardwoods and the expert workmanship of the local Pennsylvania Dutch population.
As experts in the hospitality arena, we offer innovation through our patented designs and engineering expertise. Every type of business that welcomes guests can benefit from the quality and value of our cabanas, daybeds, market umbrellas, site furnishings, and other accessories.
The Need for Cabanas
The style and function of hotels, luxury apartment complexes, and resorts rely on commercial cabanas. These site furnishings are durable in function and form, standing tall with a quality appearance that doesn't diminish over time.
The primary differences between residential cabanas and commercial ones are the quality of the materials and the design. Commercial cabanas must withstand tests of exposure like wind, precipitation, and more.
Commercial cabanas are meant to be used frequently without rusting or deteriorating. Residential cabanas are not meant to last as long; in fact, they're far less expensive and will most likely need to be replaced every season.
American Holtzkraft produces commercial-grade cabanas, and we market them as such. If you're looking for a cabana for the annual summer backyard barbecue, this is not what you need. However, if you operate an outdoor venue and frequently require a cabana, our products are well worth the investment.
Potential for Commercial-Grade Cabanas for Your Business
While offering seaside patrons the use of cabanas should be a given for hotels, resorts, country clubs, water parks, and event venues, consider the many other uses that follow.
Hosting outdoor weddings, birthdays, showers, and swan-song vacation dinners should come with cabanas to set the tone and protect the guests. Nighttime events can be further elevated with lighting to enhance the event's style, romance, and intimacy.
Cabanas facilitate a wide range of events, making it possible for you to offer expanding services for your guests. Outdoor parties, spas, fashion shows, and other gatherings can be distinguished from a typical event to something much more special.
Discover American Holtzkraft Cabanas
At American Holtzkraft, our expertise is creating and producing custom site furnishings like cabanas, daybeds, and market umbrellas. We have decades of experience and seven different patents to demonstrate our pieces' quality, innovation, and craftsmanship.
We offer two styles of cabanas and various sizes and fabrics.
The daybed cabana has an aluminum, collapsible frame of marine-grade, durable materials. Our Beach Cabana includes a side pocket to conveniently hold your sunscreen, reading material, and other beach-handy possessions. These Beach Cabanas can coordinate with the same fabrics, colors, pleating styles, etc. of the American Holtzkraft market umbrellas you also supply your guests
The tent canopies offer easy assembly and come in a couple of different sizes. They're easy to collapse as well, so you'll find it far easier to set up events when VIP guests request spur of the moment hosting accommodations.
Order the ultimate in commercial-grade cabanas from the world-class producer of outdoor site furnishings, American Holtzkraft. Learn more by browsing the online catalog or calling (570) 539-8945.