Commercial Grade Market Umbrellas
Commercial grade market umbrellas from American Holtzkraft offer the best construction, visual appeal, and ease of use in the site furnishing arena. Our clients worldwide appreciate the customer service, quality, and custom potential of our work.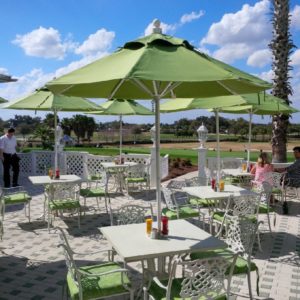 Female-owned and operated since our founding in 1985, American Holtzkraft is the brainchild of innovation, producing products using fine materials and expert craftsmanship. We rely on the strength of the locally sourced Northern Ash hardwoods and the workmanship of the Pennsylvania Dutch population to produce market umbrellas, cabanas, daybeds, accessories, and site furnishings that meet the needs of our customers, one season after the next. 
Impress Your Customers, Guests, and Patrons
When customers arrive at your restaurant, event space, resort, or other place of business, an American Holtzkraft market umbrella will exhibit a favorable impression of the establishment. As customers enjoy your services, they'll have the comfort of shade against the sun's heat and glare. Outdoor hospitality spaces must have a set of quality market umbrellas, and American Holtzkraft produces the best. 
American Holtzkraft offers a wide range of site furnishings for hospitality spaces, and we offer customization potential to design items specific to your space and your brand. Choose the shape, pleating, color, design, stitching, and valances for your umbrellas; you can even have your logo incorporated into the design. We even provide the option for exclusive designs.
American Holtzkraft – Quality Market Umbrellas
The market umbrellas you need for your business are far superior to the typical patio umbrella you'll have at home. Market umbrellas for professional spaces are safer. They have strong bases to ensure that they don't fall over or cause injury. We offer proven, safe and appropriate systems for various environments and businesses.
Our market umbrella designs provide strength through strong materials and intelligent design. Aluminum, hardwoods, and solid brass components – all treated to resist wear from exposure – are the primary materials we rely on. American Holtzkraft has six patents on the innovative designs we incorporate into our market umbrellas.
The impressive level of wind resistance is one difference in an American Holtzkraft market umbrella. With a fully rotating canopy and dual canopy venting, this market umbrella can stand against winds of 74.5 mph before experiencing damage – as proven in wind-tunnel testing.
Other stand-out features of American Holtzkraft market umbrellas include:
Smooth opening and closing canopy mechanisms

Fade-resistant, tear-resistant, UV-resistant canopy fabric

Custom options regarding pole material, canopy design, and special features

Kiln-dried Northern Ash, Western Cedar, or Plantation-Grown Teak wooden pole options with a wide range of finishes available, including Teak, Natural, Mahogany, Stonehenge Gray, White Wash, Black Enamel, and White Enamel

Aluminum pole options in brushed aluminum or powder coat finishes

Incredibly high quality and dedicated customer service

Dedicated repair and refurbishment center

SAM visits are provided to Florida clients for the evaluation of the Safety, Aesthetics, and Maintenance of outdoor spaces
If you're in the market for commercial grade umbrellas, find the products you need at American Holtzkraft. We produce all sorts of custom site furnishings designed to meet the needs of each client. Explore the various product offerings by reaching out to our team at (570) 539-8945 or perusing our online catalog.