Commercial Grade Outdoor Umbrellas
American Holtzkraft produces the finest commercial grade outdoor umbrellas available. Allow us to create a custom design that will incorporate your preferred aesthetic and brand in a model that will work well for your space.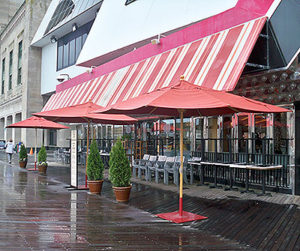 American Holtzkraft market umbrellas offer the strength, protection, and ease of use that hospitality venues require. From resorts to hotels, country clubs, water parks, theme parks, cruise lines, restaurants, and more, hospitality businesses throughout the world rely on our market umbrellas, cabanas, daybeds, and other custom site furnishings to meet functional and aesthetic needs of their exterior spaces. 
Introducing American Holtzkraft
Founded in 1985 and operating out of Mount Pleasant Mills, PA, American Holtzkraft is a small-business, operated by women, that produces a wide range of site furnishings. We focus on three primary factors to produce outstanding results:
High-quality, fine materials

Expert, experienced craftspeople

Advanced, unique design innovations
Count on American Holtzkraft to surpass your expectations.
The Critical Nature of Market Umbrellas
In addition to shielding guests from UV rays, unwelcome glare, and heat from the sun, market umbrellas also anchor the seating design and create a unified aesthetic. With the American Holtzkraft customization process, customers can also integrate marketing designs and even brands within the design of the market umbrellas.
Market umbrella quality must be a consideration when you choose a source for these critical units. When you choose American Holtzkraft, we embrace a process that focuses on the smallest factors as well as the overall design to create market umbrellas that check every box for the ideal piece.
Taking care of your market umbrellas should be as simple as possible. Keeping these pieces in tip-top condition is vital to the continued favorable impressions of your guests, and for this reason, American Holtzkraft prioritizes the use of materials that resist fading, staining, tearing, and mildewing. Some of our designs even welcome in-field repair.
Customizing an American Holtzkraft market umbrella is simple. Our team can even help you create a unique design for your pieces, and we offer exclusive rights of use for our clients when they create a set of furnishing designs that reflect their brand.
As you design your market umbrellas, always put safety and quality first. American Holtzkraft utilizes only quality pieces – stainless steel, aluminum, solid brass, hardy hardwoods, and multiple layers of sealant – to prevent damage from exposure.
We also employ patented designs and hand-crafted excellence to produce our pieces, and our customer service is absolute. When mistakes occur, we correct them quickly.
The most wind-resilient market umbrella made and sold comes from American Holtzkraft. This model has dual venting and a fully rotating canopy that reduce the pressure of wind against the canopy, lessening the risk of damage. In fact, wind tunnel testing has shown that this model can withstand winds up to 74.5 mph before damage occurs.
The customization options that you have with American Holtzkraft allow you to embrace and cement a marketing campaign in as subtle or explicit manner as you desire. From the canopy's color and pattern to its texture, stitching, pleating, and even logo design and placement, we can fully personalize the market umbrella canopy.
Our market umbrellas are built to last, but we at American Holtzkraft also offer refurbishment and repair services, for our own products as well as those of our competitors. Bring us your site furnishings that have seen better days, and we'll provide them with a second life.
Find the perfect commercial grade outdoor umbrellas for your hospitality endeavors at American Holtzkraft. Begin by perusing our online catalog to check out the options and then call (570) 539-8945 to place your order.