Commercial Grade Patio Umbrellas
American Holtzkraft commercial grade patio umbrellas fit a critical need for hospitality venues worldwide. Hotels, country clubs, restaurants, resorts, water parks, theme parks, and event spaces require site furnishings to provide comfort and protection to keep the outdoors as luxurious as possible. The unique pieces we at American Holtzkraft create provide the ideal functionality, design, durability, and customer support. 
About American Holtzkraft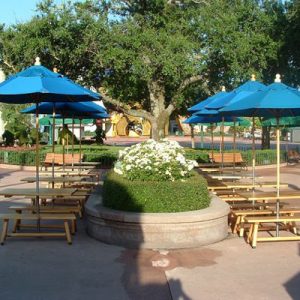 American Holtzkraft's home base in Mount Pleasant Mills, PA, provides a wealth of natural and human resources. Northern Ash hardwoods, grown locally, are the hardest of the hardwoods of North America; baseball bats are made of this wood, and we rely on their strength for our wooden poles. The region also offers the benefit of a large Pennsylvania Dutch population known for expertise and craftsmanship in building. 
Since 1985, we have blended solid materials and expert artisans with our innovations to produce the best market umbrellas, cabanas, daybeds, accessories, and other site furnishings.
The site furnishings we make at American Holtzkraft complete the outdoor spaces of all hospitality venues – including restaurants, resorts, kiosks, event spaces, theme parks, and more. 
In addition to functional protection for guests from glare, UV, heat, and light precipitation, market umbrellas serve visual purposes by providing an anchor for the design and contributing to a unified theme through custom options. 
Visitors to your hospitality business will evaluate the space based on its features, including the site furnishings. The choice to buy from American Holtzkraft will impress them appropriately.
The market umbrellas we create are more than appealing; they're also built to last. Key features of the canopy fabric that we use include:
Wear-resistance

UV-resistance

Mold and mildew-resistance

Fade-resistance

Stain-resistance
In addition to creating stock and custom site furnishings, we also offer a dedicated repair and refurbishment center for our pieces and those made by our competitors. Our techs will visit and evaluate the Safety, Aesthetic, and Maintenance aspects of your venue. Florida clients can also schedule a SAMs visit from American Holtzkraft.
American Holtzkraft produces pieces of the best possible quality. Stainless steel, aluminum, solid brass, hardwoods, and proven hand-crafted quality go into every piece we build.
Six patents held by American Holtzkraft give a glimpse of the level of innovation we leverage. One of our designs that stands out is our wind-resilient market umbrella, made with a fully rotating and dual-vented canopy. In wind-tunnel testing, this umbrella withstands winds up to 74.5 mph before suffering any damage. 
Market umbrella canopies offer a way to grab guests' attention, directing eye movement and walkways. The custom potential of American Holtzkraft market umbrellas is wide-ranging, including:
Color

Design

Texture

Pleating 

Stitching

Logo Placement

More
American Holtzkraft commercial umbrellas withstand the tests of time and exposure, and you can opt for a wooden or aluminum market umbrella pole with the finish you choose.
Hospitality businesses needing commercial grade patio umbrellas can rely on American Holtzkraft for incredible site furnishings and service. We do everything required to meet our customers' needs. We welcome you to browse our online catalog and contact us with questions, feedback, or orders by phone at (570) 539-8945 or email at [email protected].