Commercial Grade Pool Umbrellas
Pool areas of hospitality venues need the best commercial grade umbrellas. Enter American Holtzkraft.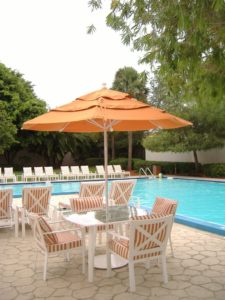 Don't neglect the exterior of hospitality outdoor spaces. Guests' perspectives of these areas will be directly connected to their level of satisfaction with the experience. We at American Holtzkraft are the best option for hospitality venues looking for high-quality market umbrellas, cabanas, daybeds, and other customized site furnishings. We regularly serve a wide range of hospitality venues including restaurants, cruise ships, water parks, theme parks, hotels, resorts, country clubs, and more. 
Appropriately designed site furnishings will create a welcoming environment for guests; offer protection from light precipitation, glare from the sun, UV rays, and heat; enhance and cement the aesthetic design; take advantage of branding environments; and anchor seating areas.
The commercial umbrella design that you choose can continue or create a brand for your company. Our team can assist with the design process, and we offer exclusive use for companies who choose to create unique designs. 
American Holtzkraft is female-led and owes its success to innovation, quality materials, and expert craftsmanship. We prioritize the safety and quality of our products, offering a wide range of market umbrellas, cabanas, daybeds, and other custom site furnishings. 
Defining the Ideal Market Umbrella
The customization process with American Holtzkraft is straightforward and expert guided. Your company can achieve greater aesthetic unity, functionality, and maintenance by choosing our site furnishings. 
The process of customization should start by defining your needs regarding shape and size. The shape – square, decagon, rectangle, or octagon "round," – should mirror the area that requires protection as well as the furniture pieces in the area, i.e. tables, chairs, bars, etc.
As for size, the area that requires protection should be measured and an easement of 2' on all sides should be incorporated to integrate full shade even as it changes position from morning to afternoon.
The pole type for your market umbrella will be another choice you'll have to make. The wooden umbrellas are typically chosen for more permanent installations, but both are highly durable and functional. The wooden umbrellas that we design are largely made of Northern Ash hardwoods, the same hardwoods used to make baseball bats. Other woods that we make available include Plantation Grown Teak and Western Cedar. We treat this wood with a slow-drying process and apply several layers of sealant in the finish shade of your choice. Options include Teak, Natural, Mahogany, Stonehenge Gray, White Wash, Black Enamel, and White Enamel.
The components that fit the pieces together are made of high-quality materials including stainless steel, solid brass, and aluminum.
Once you have the right model for your space, customize it! The color and pattern, texture, pleating and stitching, and logo design and placement are all up for designation. Subtle elegance or eye-catching branding are all easily designed.
Quality American Holtzkraft market umbrellas last season after season. They're cared for easily and resist tearing, staining, fading, and mildewing. We also offer repair and refurbishment services when they eventually show their age, and we'll refurbish products produced by our competition as well. 
If your company is Florida-based, consider scheduling a SAM visit with American Holtzkraft. We'll evaluate the Safety, Aesthetics, and Maintenance requirements of exterior spaces and offer remediation for any deficiencies.
Define commercial pool areas with top-grade umbrellas from American Holtzkraft. We lead the industry in production of these and other custom site furnishings and invite our customers to browse our online catalog and contact us via phone at (570) 539-8945 or email at [email protected].