Commercial Hotel Cabanas
Every high-end hotel requires commercial cabanas for the comfort, shade, and design enhancement they provide. American Holtzkraft cabanas and other site furnishings complete and elevate any hospitality venue in a manner worthy of its purpose and environment.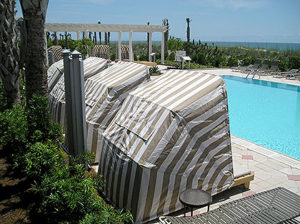 Established in 1985, American Holtzkraft's dedication to our clients is manifested in the quality of our pieces and related services. Female-owned and based in Mount Pleasant Mills, PA, American Holtzkraft makes excellent use of the regionally grown Northern Ash hardwoods, the skill of the local Pennsylvania Dutch community, and the genius of our innovative designs. 
We serve the hospitality sector with high-end cabanas, daybeds, market umbrellas, and other site furnishings. Our patented designs and commitment to excellence shine through in every hand-crafted piece we produce. 
Clients of American Holtzkraft receive 100% customer satisfaction. When mistakes occur, we make them right, always.
The Function of Cabanas
Commercial cabanas provide stylistic and functional benefits to luxury hospitality venues. They must be strong and substantial, pulling together the overall design and remaining pristine despite regular use. 
Commercial and residential cabanas are made differently and with different material qualities. Commercial-grade cabanas need to remain in functional condition, with a pristine appearance, despite regular use and exposure to environmental pressures.
American Holtzkraft cabanas are meant to be used in hospitality settings. The chosen materials resist deterioration and corrosion and cost a bit more than residential cabana pieces. Choose American Holtzkraft cabanas for the poolside and the beachfront of your resort.
We routinely offer cabanas and other site furnishings for all hospitality endeavors, including cruise ships, country clubs, water parks, event spaces, theme parks, water parks, hotels, resorts, restaurants, and more. 
American Holtzkraft Cabanas
The cabanas we offer at American Holtzkraft come in two styles: beach and tent cabanas.
The Beach Cabana, Model #760 4'x8', features a marine-grade aluminum frame. The frame collapses for adjustable use, and the fabric is the same weight as that used with boats and awnings. Over many years, we've perfected our design for safe and appropriate use and aesthetic appeal. Features of the Beach Cabana include:
Side pocket for stashing personal items like sunglasses and sunblock during use

Color-coordinated options to work with themes of American Holtzkraft market umbrellas

Quick-dry cushions

Strong marine-grade Sunbrella textiles

Wind vents

Pairs via attachments with American Holtzkraft daybeds and double-chaise loungers
Tent Cabanas from American Holtzkraft are available with an aluminum or wooden frame. 
Aluminum Frame Models

Model #241 7'x7'

Model #244 10'x10'

Wood Frame Models

Model #741 7'x7'

Model #744 10'x10'
Both styles of frames can be easily assembled, and all grades of fabrics are available.
A feature that promotes faster collapse and removal when inclement weather arises is available with wood-framed tent cabanas.
Additional American Holtzkraft Services
American Holtzkraft provides refurbishment services and SAMs visits (in Florida). We can refurbish site furnishings of our own and those of our competition. During SAM visits, we evaluate the SAFETY, AESTHETIC, and MAINTENANCE features of Florida hospitality venues.
Place an order for commercial hotel cabanas from American Holtzkraft. We're a top-of-the-line provider of site furnishings, including custom pieces. Discover all the possibilities for your exterior spaces by checking out our online catalog or dialing (570) 539-8945 to speak with our staff.