Commercial Hotel Umbrellas
The commercial umbrellas gracing the outdoor spaces of elite hotels must be in peak condition and in keeping with the general ambiance of the establishment. American Holtzkraft offers top-of-the-line market umbrellas and cabanas, daybeds, and other site furnishings to keep your guests comfortable and duly impressed.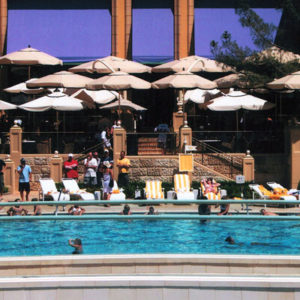 As a proud, female-owned company operating out of Mount Pleasant Mills, PA, we've been producing innovatively designed, high-quality market umbrellas since 1985.
Why American Holtzkraft?
American Holtzkraft suggests that all hotel venues choose our market umbrellas for the following reasons:
Well-made site furnishings, including market umbrellas, daybeds, cabanas, and more
Handcrafted efforts by the local Pennsylvania Dutch population
Innovative design for wind resiliency, improved functionality, and lasting durability
Canopies are created from high-end, durable fabrics in various colors, textures, designs, pleating styles, stitching, and logo design and placement.
Wooden poles of Northern Ash, the hardest of the hardwoods that grow in North America
Canopy options range from square, rectangle, decagon, and octagon (round) shapes in all sizes.
Designing Custom Market Umbrella
When you're ready to order umbrellas for your hotel, you'll have several options. You can browse our catalog and design everything yourself, contact us online, or call our team for assistance. Given the square footage of your space, the number of seating areas planned, and your preferred layout, we can help create a plan that meets your needs, functionally and aesthetically.
The team of professionals here at American Holtzkraft provides full customer support for every transaction. So, if a mistake occurs, you don't have to worry that we'll refuse to correct the situation.
American Holtzkraft market umbrellas are built to last. We understand that they'll be used in all conditions, so we make them using quality components and innovative design. Invest in high-quality American Holtzkraft market umbrellas. Your investment will remain intact year after year due to the fade, mold, and stain-resistant canopy and corrosion, warping, and break-resistant pole.
Market umbrella poles are either Northern Ash hardwood or aluminum. The wooden poles are slow-dried and finished with multiple layers of protection. If you plan to install the umbrella permanently, choose a wooden pole, but aluminum poles are the better choice for a mobile setup.
When hotels choose to custom design their market umbrellas, they bring together the overall aesthetic design of the space. Stepping up this customization with a silk printed logo also takes advantage of the branding opportunity, or you can opt for brand-appropriate color combinations.
Safety and longevity are the ultimate priorities of American Holtzkraft. We offer wind-resistant market umbrellas with rotating canopies and dual venting, and our stands and installation processes are safe for a range of environments.
Quality and service are the hallmarks of American Holtzkraft operations. Reach out to our team with any questions or complaints, and we'll be happy to arrange for satisfaction.
For repair and refurbishment services of your market umbrellas, you can also count on us at American Holtzkraft. We have a designated center for refurbishment.