Commercial Metal Patio Umbrellas
Are you looking for quality commercial metal patio umbrellas? American Holtzkraft creates top-notch, well-designed market umbrellas, cabanas, daybeds, and custom site furnishings for hospitality endeavors from East Coast to West Coast and beyond.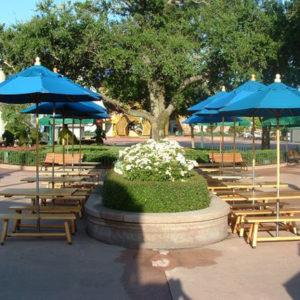 Our processes blend ingenious design, sturdy materials, and skilled craftsmanship, resulting in the excellent products that we deliver to our clients. The commitment to customer service is sure; when small things go wrong, we do what's necessary to make it right 100% of the time.
Mount Pleasant Mills, PA, the home of American Holtzkraft, provides us with a wealth of natural and human resources. The Northern Ash hardwoods that grow here are the strongest of all the North American hardwoods. Baseball bats and our wooden poles for market umbrellas are made from this locally sourced lumber. 
The area also provides the expertise, experience, and hand-crafted artistry of the Pennsylvania Dutch community. We rely on this resource to produce high-quality pieces for all of our clients, who run the gamut of hospitality venues:
Restaurants

Resorts

Theme parks

Water parks

Cruise ships

Event spaces

more
Every material that goes into our market umbrellas is strong. We build our pieces to last – wooden or aluminum poles, multi-laminated hubs, finials, strong canvases for canopies, and solid brass hardware.
The most durable model – the 202P – comes with an 8′ rotating canopy and pultrusion ribs, and the pole is available in aluminum or powder finishes. 
What to Expect from American Holtzkraft Market Umbrellas:
Hardwoods – Northern Ash, Western Cedar, or Plantation-Grown Teak – slow-dried via kiln, sealed, and layered with multiple finish treatments;

Laminated and protected with an aluminum-flush pole guard;

Multi-laminated and reinforced hub and finial;

Flexible, durable, and glossy finish for exterior application; 

Laminated, solid brass brackets, grommets, and screws installed flush.
Shopping for the Right Metal Patio Umbrella
The best choice of patio umbrella will make your patrons' experiences better. Market umbrellas are essential, offering comfort from the sun and light precipitation, but they must be the right size and shape.
The shape of the market umbrella should reflect the table, seating, and other features of the space. We offer rectangle, octagon "round," square, and decagon models.
Choose the size according to the area that you need to shade. Market umbrella measurements indicate the length from rib tip to rib tip, not the height. In general, you want to measure the area to be shaded and add 2′ on all sides to create a shade buffer to account for the sun's movement throughout the day. 
The size of your outdoor umbrella will be determined by its width, not by its height. All American Holtzkraft umbrellas are measured from tip to tip on the ribs.
6-6 ½' – pair with tables up to 30″ wide

5-8′ – tables up to 4′ wide or a single chaise lounge

9′ – tables up to 4 ½' wide

10′ – tables up to 6′

11′ – tables up to 7′

12′ and up – excellent for large exterior seating areas and poolside umbrellas.
American Holtzkraft has a wide footprint and a strong reputation based on experience and customer satisfaction. Come to us for commercial metal or wooden patio umbrellas or other custom-designed site furnishings. Learn more by browsing our online catalog, and place your order when ready by calling (570) 539-8945 or emailing [email protected].