Commercial Outdoor Patio Umbrellas
Commercial businesses with outdoor spaces require patio umbrellas that invite guests to enjoy the shade and cozy atmospherics they provide. American Holtzkraft employs ingenuity, craftsmanship, and fine materials to offer restaurants, theme parks, resorts, cruise ships, and other hospitality-related businesses market umbrellas and other site furnishings.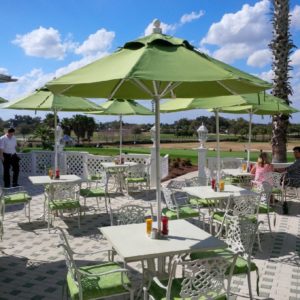 American Holtzkraft, founded in 1985, offers the most well-made market umbrellas, cabanas, daybeds, and site furnishings on the market. Ingenious design, Pennsylvania Dutch craftsmanship, local ash hardwoods, and durable, stylish fabrics create the ultimate in market umbrellas.
A Guide for Buying Market Umbrellas
As executives, designers, and landscape architects choose market umbrellas to purchase, the size and purpose of the area in question should dictate the features and number of umbrellas required.
It's always unfortunate when, upon delivery, you realize that your measurements or estimations were off. The team at American Holtzkraft strongly suggests reaching out to our team with the square footage and location for a collaborative design plan. We have the experience and expertise required to deliver the perfect market umbrella design and layout.
After size, durability should be the next consideration. Commercial market umbrellas must withstand exposure to the sun, rain, snow, wind, and other elements. Quality umbrellas will last for years without looking ragged or sun-bleached. When you choose American Holtzkraft, your investment will remain in excellent condition for the long term because of the fine quality, anti-fade, and mold resistance of the fabrics and other materials we use.
For the pole of the market umbrella to last, it must be made of rust-resistant materials. We use either ash hardwoods or aluminum to construct the poles on our umbrellas. Depending on the preferred aesthetic, clients can choose to have the kiln-dried ash hardwood stained with several different shades.
The choice between aluminum or hardwood will depend on how mobile the umbrella needs to be. For instance, a temporary kiosk should be mobile, while a more permanent outdoor restaurant seating design might require a sturdier wooden pole design.
We provide our clients with all of the customization they require for branding or design purposes. Every umbrella will meet your specifications, from the fabrics to the pleating, logo placement, and other details.
Safety is of the utmost concern for the team here at American Holtzkraft. We're proud of our patented system for wind resilience and our robust stabilization systems. Protect your guests by choosing outdoor site furnishings and market umbrellas that pose no danger even in windy conditions.
As a business, we stand behind our products. In the real world, mistakes happen, and while we strive for perfection, we don't always achieve it. However, you can expect us ALWAYS to correct our mistakes. When you deal with us, you will be pleased with the customer service, follow-through, and quality of the products received. We also provide repair and refurbishment services to make your market umbrellas and site furnishings new again.
American Holtzkraft also offers an additional service for our Florida customers: SAM, a Safety, Aesthetics, and Maintenance (SAM) Site Visit.
For the most trusted name in commercial outdoor patio umbrellas, turn to American Holtzkraft. Learn more about our products, from market umbrellas to cabanas, daybeds, accessories, and site furnishings, by reaching out to (570) 539-8945 or browsing our online catalog.