Commercial Outdoor Umbrellas for Restaurants
Restaurants with beautiful views call for commercial outdoor umbrellas to allow patrons to enjoy those amenities in comfort and style. American Holtzkraft produces the best market umbrellas, daybeds, cabanas, and other custom-built site furnishings in the world, and the level of customer service we provide lives up to those standards.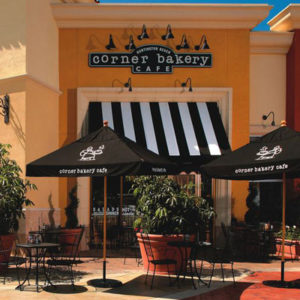 Commercial and residential outdoor umbrellas differ in the size, the quality of materials, and the life expectancy. In short, one type is meant to be used frequently, season after season, and the other is meant to be used occasionally for a season or two. Both are meant to lend style to the landscape design. 
Whether you operate a roadside snow-cone stand with a few picnic tables or a fine-dining restaurant, if you offer outdoor seating, you need to pair it with commercial outdoor umbrellas from American Holtzkraft. 
American Holtzkraft market umbrellas are built well and a cost effective solution to the problem of providing outdoor comfort for guests. Choosing market umbrellas allows for storage when they're not needed. Restaurants, for instance, can transform their patio spaces from dining areas during the day to dance floors at night. 
Commercial outdoor umbrellas don't come as a one-size-fits-all needs prospect. We offer customization potential as common as size and shape and as detailed as a screen-printed logo, color, and even pleating. Our customers can choose to have exclusive rights of use of the design that they choose. 
When using American Holtzkraft market umbrellas, they need to work easily. American Holtzkraft market umbrellas are designed in such a way that they work seamlessly and welcome repair in-field when necessary. 
Centerpost Market Umbrellas
The centerpost market umbrella is the safest, so it's also the kind made by American Holtzkraft. The pole in the center connects to a supportive base. This umbrella type works well when paired with a table setting and when situated in between two daybeds or other seating.
We no longer make cantilever outdoor umbrellas because we believe that they pose a risk to users. Instead, we prefer the safety of a well-made center posted market umbrella.
Outdoor Umbrella Composition
Base – Stabilizing an outdoor umbrella requires a strong base, appropriate to the environment. We supply a variety of base designs; speak with our team to determine which style is most suitable for your needs. 
Pole – Your American Holtzkraft market umbrella pole can be either wooden or aluminum. While we regularly use Northern Ash hardwoods to construct wooden poles, we also offer Plantation-Grown Teak and Western Cedar. The various finishes that we make available provide customization opportunities.
Top and Bottom Hubs – The American Holtzkraft wooden umbrellas' hubs are made of strong and durable wood, multi-laminated and reinforced with stainless steel screws, and the aluminum umbrellas' hubs are solid, machined aluminum.
Canopies – Our canopies consist of high-end durable textiles. The fabric resists fading, staining, mildewing, and tearing, and you can choose among hundreds of colors and patterns, pleating, stitching, and valances. 
Finial – Wooden umbrellas have simple, hand-tooled wooden finials, multi-laminated for maximum protection, and aluminum finials are strong and made of machined aluminum. We do offer other finial styles if you're interested.
Order the commercial outdoor umbrellas you need for use in restaurants from American Holtzkraft. View the units and options we offer in our online catalog, and give us a call at (570) 539-8945 to design the ideal design for your space's functional and stylistic needs.