Commercial Outdoor Umbrellas Georgia
If you're shopping around for commercial outdoor umbrellas in Georgia, American Holtzkraft is the solution. We offer site furnishings made with the finest materials, workmanship, and engineering available, and all hospitality venues stand to benefit from our efforts.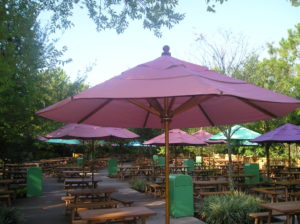 Hotels, restaurants, theme parks, and other hospitality venues should come to American Holtzkraft to elevate their outdoor spaces with market umbrellas, daybeds, cabanas, and other bespoke site furnishings.
American Holtzkraft was established by women in 1985. We are, in fact, a female-owned company, and every single sale matters to us. We do whatever is required to make sure that customers receive quality goods when they buy from us.
Setting the Tone of the Venue and the Event with Commercial Umbrellas
Settings that require market umbrellas include outdoor spaces at eateries, poolside lounge areas, beach spots, etc. Not only will the market umbrella you choose create shade for the comfort and protection of your customers, but it will also draw in the eye of passersby as a feature point of the design.
The market umbrellas and other site furnishings that we produce are built to last. We believe in quality, and we don't believe in waste. When market umbrellas eventually show age, allow us to refinish, repair, and refurbish them to like-new condition. Our commitment is to our customers, and we provide customized, appealing, and functional site furnishings.
The team at American Holtzkraft is accustomed to collaboration with landscape designers, architects, and company executives as they plan custom market umbrellas. We aim to meet your needs.
Wood and aluminum are the two options we provide for the umbrella pole. Ash hardwoods are the hardest of the hardwoods that grow in North America, and they are processed through kiln-drying, sealant application, and finish application.
Investing in American Holtzkraft market umbrellas allows customers to customize the purchase. The size, shape, color, texture, and logo placement can all be custom chosen.
Even with high winds, your umbrellas will last. Special features of our umbrellas allow the canopy to rotate around the axis, and dual vents reduce the stress from high wind situations.
We've been convicted of the need to improve our efforts, customize orders, and please customers since 1985. Safety is our priority, and we make it a mission to surpass all expectations.
Customize the canopy of your American Holtzkraft market umbrella with the textile of your choice, sewn in a style that will enhance the atmosphere you're creating. All of the options we provide are fade, mold/mildew, and UV resistant.
The foremost provider of commercial umbrellas and other site furnishings, American Holtzkraft abstains from producing styles that could tip and cause injury. Instead, we integrate wind-resistant systems and stabilization systems for any placement.
Our team at American Holtzkraft is always available to help plan the project to work with your desired aesthetic and intended purpose.
The worst danger to market umbrellas is wind, and the resilient nature of our umbrellas may just be their best feature. The features included in our umbrellas that reduce stress caused by windy conditions are protected by patents.
If you need commercial outdoor umbrellas or other site furnishings in Georgia, turn to American Holtzkraft. We're able to provide custom designs that are affordable and of the best quality. Learn more or speak to our team members today by calling (570) 539-8945.