Commercial Outdoor Umbrellas Las Vegas
Resorts, restaurants, and other outdoor venues in Las Vegas should turn to American Holtzkraft for their commercial outdoor umbrellas. We produce the finest site furnishings through a combination of expert skill, ingenuity, and quality materials. Our focus remains on three priorities: safety, functionality, and aesthetics.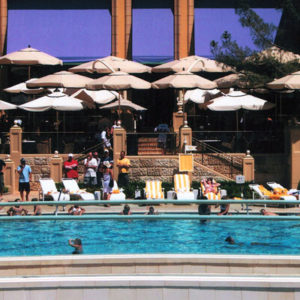 The high-end umbrellas we produce provide the right look to impress guests, comfortable seating areas for protection from UV rays, heat, and glare, and a chance to further the company brand in guests' minds.
Who We Are at American Holtzkraft
Headquartered in Mount Pleasant Mills, PA, American Holtzkraft employs the skills of the local Pennsylvania Dutch craftspeople, the strength of the Northern Ash in the local area, and the innovations designed through the brilliance of our team. We are a female and family-owned small business with nearly four decades of experience providing clients with the best possible site furnishings.
We produce a wide range of products, including wooden and aluminum market umbrellas, cabanas, daybeds, site furnishings, accessories, and other custom pieces. We're also proud to provide refurbishment and repair services.
Designing and Purchasing Market Umbrellas
Market umbrellas from American Holtzkraft can be created specifically for your venue, whether you operate a theme park, restaurant, country club, resort, water park, or other hospitality venues. We provide a wide range of sizes, shapes, styles, colors, designs, and more within our market umbrella space. The ability to customize your market umbrella should be as important as durability, low maintenance, wind resistance, and more.
Consider the canopies' potential for custom branding opportunities. We use lasting Sunbrella fabrics in the color and design that you prefer. We're happy to provide you with market umbrellas that speak to your brand, from the pleating style to the stitching and even the logo design and placement.
The hardware used in our market umbrellas includes multi-laminated hubs and finials and solid brass hardware.
You will not find market umbrellas from other companies on par with the ones produced by American Holtzkraft.
High winds are often the bane of market umbrella durability. As winds rise, you'll see employees scatter to close umbrellas before winds rip them apart. American Holtzkraft market umbrellas, on the other hand, provide a proven solution.
During wind tunnel testing, our market umbrellas have been proven to withstand winds up to 74.5 mph before experiencing damage. The patented designs that make this possible include dual venting and a canopy that rotates around the axis.
Holding up the canopy is the pole. You can choose either a wooden pole or an aluminum one. The Northern Ash hardwood poles are kiln-dried and finished with marine-grade products in the shade of your choice.
The marine-grade aluminum poles provide incredible strength and the ability to repair malfunctions on-site.
If you're looking for the right company from whom to purchase the market umbrellas for your luxury venue, choose American Holtzkraft. We provide the highest possible quality and stand by our sales. You can rely on our award-winning and well-respected company to serve your needs well no matter where you are on the globe.
American Holtzkraft is the best choice for commercial outdoor umbrellas for your Las Vegas venue's outdoor spaces. The money spent with us will be worth every penny, providing longevity, customization, and comfort. For more information on how your choice of site furnishings can elevate the space, call (570) 539-8945 or browse our online catalog.